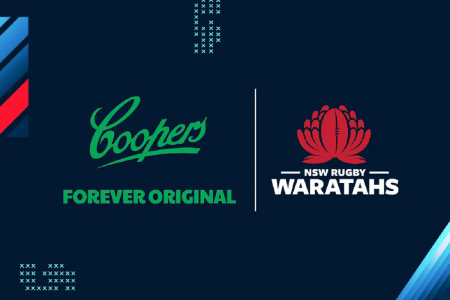 Coopers has signed a two-year sponsorship deal with Australian Super Rugby franchise the NSW Waratahs where their Original Pale Ale and Mild Ale will be available at all home matches at Sydney's Allianz Stadium alongside signage and other game day activations.
The deal also sees Coopers become a sponsor of NSW Suburban Rugby which runs the grassroots "Subbies" competition where approximately 7,500 adult players from 55 clubs compete.
Coopers' national marketing manager Kate Dowd said NSW is one of their strongest growth regions and that they'd been looking to become involved in rugby union for some time.
"Like Coopers, the Waratahs have a unique history, strong community connections and very passionate fans," she said. "(We're) thrilled to be teaming up with the Waratahs and NSW Suburban Rugby and look forward to raising our glasses to their success both on and off the field."
After a number of years without a fixed abode as their Sydney Football Stadium (Allianz) home was knocked down and built new again, NSW Waratahs CEO Paul Doorn said having Coopers onboard would add to their "premium game day experience" as they prepare for their first match back at the ground on February 24 against the ACT Brumbies.
"In addition to our amazing facility, we are investing heavily in match day entertainment – from a dedicated party zone for younger fans, match day DJs, and improved in-stadia sports presentation," he said.
"Coopers will also be the Official Beer of the NSW Suburban Rugby Competition, linking strongly with our adult male and female participation base.
"I couldn't think of a better beer to complement these initiatives than a Coopers."
Coopers also said in addition to its NSW rugby sponsorship its partnership with Merivale, that is the hospitality partner of Allianz Stadium and the adjacent Sydney Cricket Ground, would continue.