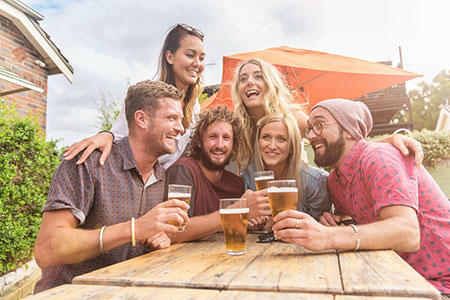 Raising a glass is part of the Aussie vernacular. Celebrating life's milestones or just the end of the working week over a beer with family and friends is as natural as the ingredients in your favourite brew. So it's only fitting that we mark International Beer Day (4 August 2017) by giving thanks to the funky brewsters who turn barley, hops, yeast and water into the spice of life.
"Australia is blessed with perfect conditions for making and enjoying the best beers in the world, sourcing one million tonnes of highly prized barley for malting and 600 tonnes of top-shelf hops from Australian farms each year," Brewers Association CEO Brett Heffernan said.
"It is sometimes overlooked that 93 per cent of all beer sold in Australia is made right here. As such, Australian beer supports the full-time jobs of almost 90,000 Australians and generates $15.3 billion in economic activity to be one per cent of GDP. One per cent may not sound much but, hey, it's beer!
"As an economic driver, our beer industry supports key goods and services throughout the Australian economy, including for ingredients ($239 million), materials and packaging ($682 million), transport and freight ($216 million), marketing and sales ($714 million) and administration ($364 million).
"It underpins $6.1 billion in the on-licence retail industry and $2.7 billion in the off-license retail sector, while making a valuable contribution to Australia's hospitality and tourism sectors.
"Beer has flowed with the times. Over the last decade we have seen the popularity of low- and mid-strength beers grow markedly to account for one-quarter of all beer sales in Australia today.
"Australian brewers continue to invest in low- and mid-strength options, giving people greater choice and more control over their alcohol consumption. Beer is the only alcohol category that provides credible options for people to moderate their consumption.
"Australians have come a long way since the days of the six o'clock swill of the mid-1970s. Today's beer drinkers are more discerning, better informed and well equipped socially regarding responsible alcohol consumption than ever before, which is reflected in consumption per capita dropping, decade on decade, for the past 40 years, levels of harmful drinking continuing to fall and underage drinking at record lows with 82 per cent of teens today putting off alcohol until, at least, legal age.
"Meanwhile, the 9.1 million Australian adults who enjoy beer make a massive contribution in filling federal government coffers. In 2015-16, taxes on beer drinkers alone netted the Australian Government almost $2.4 billion – $2.005 billion in excise and $377 million in GST.
"There's a lot to celebrate in the lucky country… luckily we have a beer for every occasion."