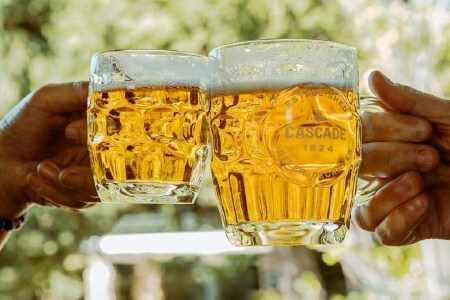 After the successful return of their wet hop IPA First Harvest last year Cascade Brewery are once again dishing up the beer for Tasmanian drinkers that features freshly picked Cascade and Enigma from Hop Products Australia's nearby Bushy Park Estates farm
First brewed in the early 2000s before it was discontinued in 2016, First Harvest returned this time last year in a keg-only trial run to gauge consumer take-up and whether it could officially become an annual release again. Last year Cascade said it was a possibility that future First Harvest releases could make their way to the mainland but all 180 kegs of the 2022 release will again be staying in Tasmania.
Cascade said this year's fresh hop IPA is "focussed on a solid backbone of malts that create clean, biscuit and bread notes to the highly hopped ale. The lightly coloured malts mean First Harvest 2022 is lighter with less malt sweetness than the 2021 release".
Cascade's head brewer Brendan Flanagan said: "As brewers, we love to make this kind of beer. Our use of the traditional hop-back process during brewing ensures we are maximising the contact time and extraction of these beautiful hop oils and flavours into Cascade First Harvest. The benefits of our brewing process become evident when the finished beer hits the bottom of the glass and the wet hop aromatics from the Cascade and Enigma hops are released from the beer for your enjoyment."
HPA's head of sales Owen Johnston said: "Fresh hop beers are a chance to remind people about the fundamental connection between Aussie beer and Aussie agriculture, while introducing unique tastes and flavours to beer lovers.
"We experienced a very mild growing season, with cooler daytime temperatures in Spring and Summer, which suited our Aussie hops.
"Working with fresh hops gives brewers a chance to slow down, do something different and celebrate the romance of harvest season and fresh hops with their local community."
As well as pouring at the Cascade Brewery Bar and Cascade Airport Café and Bar, this year's First Harvest will be made available to Tasmanian pubs that currently stock regular Cascade beers.