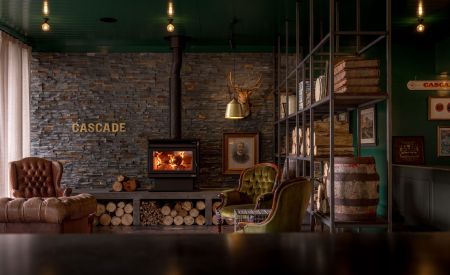 Australia's oldest brewery will open its new bar to the public tomorrow.
Featuring a 12-metre bar crafted from raw brass and Tasmanian oak, the new Cascade Brewery Bar will serve its own beer on tap plus the menu will use 100 per cent Tasmanian meat and fish.
"We wanted to create a place that locals would be proud to call their own, a special place that celebrates the heritage and craftmanship of the region in a relaxed and comfortable setting," said Cascade's Joss Jenner-Leuthart.
"The Cascade Brewery is one of Tasmania's most historic sites and iconic brands – it's been around for generations and is still as relevant as the day its first beer was brewed. Everyone involved in the project had a story of celebrating at Cascade and this inspired us to create a space worthy of Cascade's unique Tasmanian heritage.
"We haven't got interstate visitors at the moment. But when it's safe to travel again we'd love to see the Cascade Brewery Bar on the 'must do' list of every traveller to Tasmania."
Inspired by Cascade's rich history and location in the foothills of South Hobart, the brewery said every design choice, material and finish was carefully considered and then brought to life by a team of local craftspeople.
"Our new Brewery Bar pays tribute to the history of Cascade and its setting within the original homestead. With views to our almost 200-year old brewery and heritage-listed beer gardens, there's no better place to enjoy a beer and a meal," said Jenner-Leuthart.
"We wanted to celebrate the history and legacy of Cascade to create something that will bring together locals of today and tomorrow."
The Cascade Brewery Bar features a raw brass bar top, fireplace and locally crafted joinery using Tasmanian oak and raw steel. It was designed by the Cascade team in collaboration with Hobart architects JAWS Architecture and built by local contractors Macquarie Builders.
All the Cascade favourites will be served on tap on vintage Cascade coasters and in a heritage dimple glass designed in honour of founder, Peter Degraves.
Contact Beer & Brewer by clicking here to share your news and views.