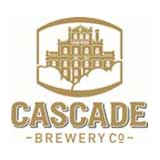 Cascade Brewery Co. has celebrated the start of its First Harvest Ale annual hop harvest, with a team led by head brewer Mike Unsworth heading to Bushy Park to pick out three new hop varieties to use for this year's brew.
The hops are chosen from Hop Products Australia's (HPA) 'experimental' hop range, and have been named by Mike Unsworth after the significant roads that lead from the hop farm at Bushy Park back to the brewery: Argyle for flavour, Brooker for aroma and Macquarie for bitterness.
The hops will play an integral part in constructing this year's Cascade First Harvest Ale, which is due to pour mid-May.