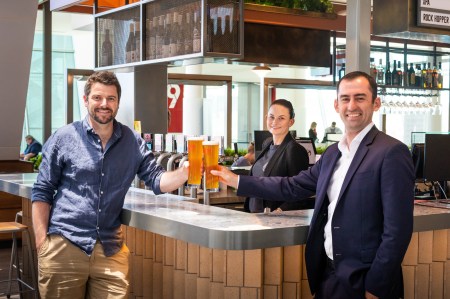 After quietly opening the doors a few weeks ago and now as border restrictions start to ease further the Capital Brewing Co have announced their taproom at Canberra Airport is officially up and running.
Essentially ready to take flight back in April, the Canberra brewery's latest venture was then grounded as the aviation industry became one of the hardest hit by COVID-19's impact on people's movements.
But with flights in and out of the nation's capital already up to 150 per week and only expected to rise in the run-in to the Christmas holidays, Capital Brewing Co's managing director Lawrence Kain said the time was right to announce they were up and running.
"It is great to finally have people back in the skies and to fill a few schooners at the Airport! Hopefully we are giving people a good reason to turn up early for their flight," he said.
"We are absolutely stoked to work with Canberra Airport and (Airport Retail Enterprises) to showcase to travellers from around the country a small snippet of how cool Canberra is and what the city has to offer."
Alongside the likes of Capital's core range Coast Ale, Trail Ale and XPA, travellers can find a number of the brewery's limited releases on tap, including one of their latest – the Trop Pop Sour Ale.
The news of the taproom's opening comes after recent announcements of direct flights from Canberra Airport to the Sunshine Coast and Cairns with Alliance Airlines and Qantas as well as direct flights to Hobart with Link Airways and Qantas (commencing from 4 December).
"The timing is perfect as we are seeing a very steady return to aviation with flights increasing from 82 to 150 per week since the reopening of borders and are expecting a further increase in flights leading into Christmas," Head of Property at Canberra Airport Richard Snow said.
"Capital Brewing Co is a favourite among the Canberra community and we look forward to sharing this with travellers at the airport."
Also this week, Capital announced they and fellow Canberra independent brewery BentSpoke would be pouring beers all Summer long at Manuka Oval for the cricket season – starting with back-to-back limited overs internationals between the Australian and Indian men's teams.
BentSpoke will bring their 12-tap container bar to the "Long On" Beer Garden with their Easy Ale session beer, the Silly MID On hazy pale ale and a mid-strength Brindabella cider brewed just for the cricket. BentSpoke also has an Easy Ale service bar located right near the entry.
Capital have also brewed a special beer for the occasion, with 6 and Out Gose to debut in the starting line-up for Friday's International alongside fellow opener Summit Session Ale. Two Capital Brewing Co bars are located behind The Hill and the Bradman/Menzies stands.
"It's a fantastic outcome for lovers of cricket and good beer. We hope this agreement paves the way for more independent breweries to pour at stadiums around the country," Richard Watkins, BentSpoke's co-founder said.
"This is a major milestone for our local brewers and a reflection of the ACT Government's commitment to encouraging Canberrans to choose local," Laurence Kain, Capital's managing director said.