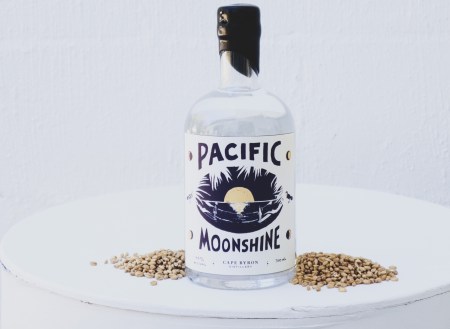 Cape Byron Distillery have created some sustainable magic with the release of their "beer spirit" Pacific Moonshine made with kegs of Stone & Wood's Pacific Ale that were rescued when COVID-19 forced venues to close their doors.
"A clear and unusual spirit" Pacific Moonshine is said to have taken on plenty of Pacific Ale's Galaxy hop characteristics with "pineapple, lychee, passionfruit and mango, along with hints of malt on the nose".
Just 3,000 bottles of the 44.4% ABV spirit have been released to the public and the distillery will be donating $6 from every unit sold to Stone & Wood's not-for-profit inGrained Foundation that supports grassroots environmental and social charities.
"Naturally we couldn't stand the thought of all that delicious Pacific Ale going to waste. So, we asked ourselves, how can we lighten the load for our beer brewing buddies?" Cape Byron's co-founder and distiller Eddie Brook said.
"Initially, one idea was to attempt distilling the beer to create hand sanitiser and then the idea of distilling Pacific Ale evolved into the peculiar idea of making a 'beer spirit' to be enjoyed as a delicious drink.
"Our hands rose to the sky as we offered to 'take some off their hands', and thus, the experiments began."
Stone & Wood's sustainability manager James Perrin said it was a "no brainer" when their near neighbours approached them with the idea.
"Sustainability is at the core of our business, with waste being a key focus, so we couldn't be prouder that our perfectly good Pacific Ale that couldn't be sold has found a new home, and has been transformed into a delicious spirit."
The Pacific Ale was transported the short ten minute drive up the road to the distillery where it was distilled twice through 'George' – Cape Byron's 2,000 litre custom-made copper pot still in a process similar to the production of single malt whisky.
A small amount of Pacific Moonshine has been stored away for barrel aging, to be released in the near future.