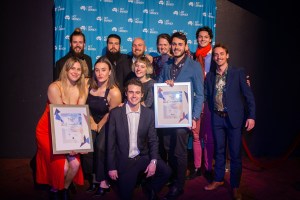 Capital Brewing Company saw its brewery and tap room walk away with awards for Best New Venue at the annual Australia Hotels Association (ACT) Hospitality and Tourism Awards. 
Capital also shared the Best Beer Venue award with BentSpoke Brewing Company.
"We're thrilled to have taken out not one, but two prestigious awards," comments Laurence Kain, Capital's managing director. "It's fitting recognition for the efforts of our entire tam, from the brewers making world class beer to our front-of-house team creating a world class beer experience for our patrons."
Located in the Molonglo Group's new Wetlands Foreshore development, a disused warehouse in Fyshwick, ACT, the venue was opened by ACT chief minister Andrew Barr on 9 September 2017. It can accommodate 930 people, and features a 12-tap craft beer bar, a sprawling beer garden with an outdoor stage, a four-sided glass walled fireplace, and an indoor tree fern-laiden courtyard with a kids' cubby. Successful negotiations with Brodburger saw their original red caravan permanently located under the brewery roof, serving burgers.
All of this is set against the backdrop of a full-scale production brewery. At the time of opening, Capital's production capacity was 30,000 litres per month, but within a month the brewery doubled to 70,000 litres per month, with further 20,000 litres was added to brewery in April 2018, taking total capacity to 110,000 litres per month. Annual production is forecast to top 1m litres, with additional capacity due to be installed in September 2018. Prior to this Capital has been a 'gypsy' brewer for a year.
"It's been wildly popular since day one," adds Kain. "We knew we were creating something special, but we definitely underestimated just how much support we'd receive from our fantastic local community, to whom we are eternally grateful."
The brewery has also now officially launched its Good Natured Community, an initiative that was announced back in May to help the community raise funds. $70,000 worth of beer and brewery experiences will be made available to community groups every year, including brewery tours, cases of beer and 'karma kegs'.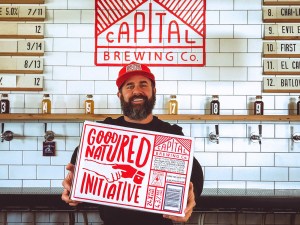 "We expect the community will be able to raise well in excess of $150,000 annually on the bakc of our donations," says Capital's community engagement manager Dan Watters.
The company announced the initiative in response to treasurer Scott Morrison's beer excise tax cuts in this year's budget.
"We crunched the numbers," adds Watters. "We could have made our beers $0.02 cheaper or use the cuts to do something great for our community. It was a no-brainer really. We're grateful for both the support of our local community and the fabulous work they do. They best way we can support them is to maximise their ability to raise critical funds for their own organisations."