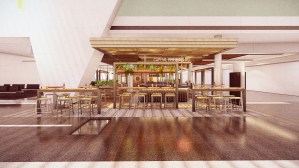 ACT-based brewery Capital Brewing Company will launch a new bar at Canberra Airport by April 2020.
The bar, which is to be delivered in partnership with Airport Retail Enterprises (an Australian airport food and beverage company), will feature 12 taps of Capital's beers, as well as local food offerings.
It will be built in the airport's southern concourse.
"We are excited about delivering just a small sample of what Canberra has to offer interstate and international guests," says Laurence Kain, Capital Brewing Co's managing director. "Visitors to the airport will be treated to a wide range of our core, seasonal and specialty brews made with our pristine Canberra water just 1 km away in Dairy Road.
"We are committed to delivering an amazing first experience for visitors to our nation's capital, one that leaves a lasting memory on our guest and one that makes our locals proud."
Capital's new bar is part of a new 1,000 sq m retail, food and beverage expansion at Canberra Airport, which will have a focus on local produce from Canberra and the surrounding area. In addition to the brewery, a cafe serving Canberra's ONA coffee and several food outlets will be created in the terminal's western concourse, while a cafe and retail space will be added to the arrivals baggage hall on the ground floor.
"Canberra has a fantastic local food and beverage scene, and we are very pleased to be partnering with many local producers to bring this to the airport," says John Chapman, CEO of Airport Retail Enterprises. "The new terminal will become a fantastic showcase of the region's produce.
"We are extremely excited and privileged to be part of such a dynamic and world class airport, and we look forward to partnering with Capital in this next stage in Canberra Airport's journey."
This announcement follows the news that Stomping Ground intends to open a permanent brewpub at Melbourne Airport.
Capital Brewing Co's Fyshwick Tap Room and Brewery won Best Brewery Experience in Australia in the Beer & Brewer Awards 2019.