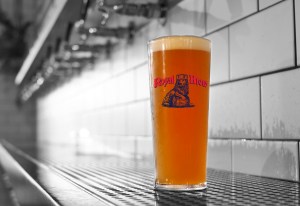 Capital Brewing Co and Groovin the Moo festival organisers Cattleyard have announced a juicy beer collaboration with UK rock band Royal Blood, who are currently touring Australia.
'Royal Brew' is a 6% ABV New England IPA brewed with Mosaic, Galaxy and Victoria Secret hops, dialing up the juice factor with the addition of blood orange juice. Capital's head brewer Wade Hurley says "it's my favourite beer right now" and describes it as "fresh, juicy and well balanced."
The collaboration is the result of a friendship between the band, Capital Brewing Co director Rich Coombes, and Cattleyard Brewing Co director Blake Smith – which formed over a mutual passion for tasty beers after the band's numerous visits down under in recent years.
"When it was announced that they were coming down for Groovin the Moo, we thought it was a bit of a no-brainer to ask them if they wanted us to make a beer with them," Coombes told Beer & Brewer.
"I've known the boys for a years, they've toured out here a couple of times through various festivals and one particular year I took them surfing out at Bondi. I went and saw them in Brighton [UK] when I was over there a few years ago, and we just became mates and whenever they're down we catch up."
As a band collaboration beer, Royal Brew is also notable for being a NEIPA rather than a more mainstream, lighter style – a fact that Coombes is keen to point out.
"I think a lot of bands [beers], there's a lot of golden ales and lagers out there, but we wanted to create something a bit more out there and interesting. Obviously New England IPAs are a bit of a hit right now, and particularly with Wade's background in San Diego, he's an IPA nut. It's just a really tasty beer."
The beer will be available tonight (April 26) at Capital's Fyshwick tap room for the official Groovin the Moo launch party, and also at Groovin the Moo Canberra. A very limited number of kegs have also been released to select venues around the country including Sydney's Local Taphouse, Bitter Phew and Frankie's Pizza.
"This is the third year we've supplied beer to Groovin the Moo Canberra, we have a 24-metre craft bar there and it's great because we don't just sell our Coast Ale and the more approachable beers – we've always had the Red IPA on, and this year we'll have the Royal Brew on, just trying to give a bit more depth to the festival beer experience," Coombes adds.
"Five years ago, who would have thought that you'd have a fruited, hazy IPA at a music festival? Typically it was commercial, mainstream, lighter-drinking styles, but the thing is that people want it – the demand is there, people are experimental, keen and want it."