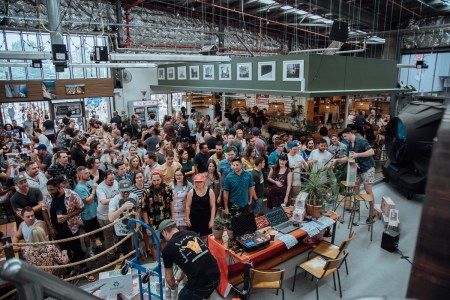 This Sunday (November 6) marks Capital Brewing Co.'s fifth birthday and to celebrate they're throwing the ultimate party at their Fyshwick brewery complete with a limited edition anniversary ale plus a range of food trucks and live music.
Coinciding with the launch of Terrestrial Urbanism – a month-long program of events exploring the future vision for the surrounds of the brewery on Dairy Road – Capital's birthday party will feature urban art platform Soul Defender parked outside to pump out all the feel good vibes while party-goers will also be treated to the latest tunes from Canberra musicians such as Sam Sly, Eden Plenty and Hope Hopkins thanks to the ACT Government's Amp It Up Program, created to assist local small to medium live music venues and artists recover after the impacts of COVID-19. There will also be special appearances from Gold Coast four-piece Peach Fur and Kiwi indie group Lazy Ghost.
Keeping guests well fed, Canberra institution and brewery mainstay Brodburger will be firing up the grill and serving its iconic burgers whilst modern gourmet Indian Tikka Stand and Barebones, BBQ Canberra's own pit smoked BBQ on wheels, will also be making guest-food truck appearances.
For those with a sweet tooth, Jasper and Myrtle's handmade sweets and Gelato Messina will each be selling their goodies, whilst Dairy Road neighbours Bellerophon Collective and Ambrosia Distillery will be coming together to serve up espresso martinis on tap.
Having started the brewery in 2017, co-founders and managing directors Laurence Kain and Tom Hertel said they're incredibly proud to mark their milestone and are excited to look forward to even more successful years ahead.
Laurence said: "We've come a long way since our early days carting kegs of craft brews between Sydney and Canberra every fortnight. Looking back, we're incredibly proud of what we've achieved in a relatively short period of time, particularly our carbon neutrality and B-corp certification".
Tom added: "We're so thankful for the support our team, customers and community have provided over the years and are excited to be bringing together some of Canberra's best to celebrate accordingly. We've got some big things planned so it's great to see the city getting behind us".
In addition to the activities at the brewery, the Dairy Road Design Market, in partnership with DESIGN Canberra, will showcase more than 20 leading, local designers and offer local food, plants and produce. Sassafras Wines will be offering wine tastings in its first ever market stall whilst Green Hat Workshop will be running Play Dairy Road, a series of free-play sessions for children in the LESS garden. Many of the independently run businesses at Dairy Road will be also open to the public during the market. The markets run 10am – 3pm, allowing guests to shop, play and taste wine before they settle in at Capital Brewing.
Capital's fifth Birthday Party kicks off from 11.30am at Building 3/1 Dairy Rd, Fyshwick ACT 2609. To reserve a table or for more information, please visit capitalbrewing.co
This is an edited version of a media release distributed by Capital Brewing.