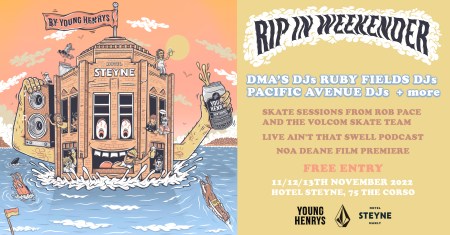 Young Henrys have announced a beer-fuelled three-day mini-festival at the Hotel Steyne in Manly from November 11 to 13.
The Spring weekender will feature a pop-up tattoo parlour, a film premiere as well as a DJ lineup spearheaded by DMA'S, Pacific Avenue and Ruby Fields.
Starting the weekend off will be punk force of SCABZ. Warming up the turntables, the Newtown posse have brought their expressive flair to fans all over the nation having toured across with the likes of SKEGSS, These New South Whales and more. Following suit will be Sydneysiders Crocodylus, who have been bringing their distinct brand of crocodile rock to fans through a slew of singles such as "Can't Understand","You" and many more; guaranteeing a ground-shaking dance floor, leaving crowds wanting more.

Headlining an insatiable Friday night of spinners are Sydney locals turned global superstars DMA's. Exploding onto the scene with their breakthrough single "Delete," the crew have been on an upwards trajectory, wowing fans and industry critics alike with their AIR Award-winning EP The Glow last year. The beloved crew will be spinning the decks, set to bring their hyper-charged and limitless imagination to the Steyne with stacks of dance floor-worthy hits sure to set the tone for the evening.

On Saturday, November 12, 20+ piece funk collective, The Regime are the next selectors kicking off the bill with their raw energy, mixing their sumptuous tones and alluring lyrics throughout the Steyne. Stepping up to the plate next is the instant punk machine of Teen Jesus and the Jean Teasers, coating the Manly pub with their infectious energy before Gerringong locals Pacific Avenue make their way to the decks. With a number of singles under their belt, the band have continued to build on the bold indie-flavour and promise a whirlwind night of energetic cuts with frothies flowing at every hour.

Rounding off Saturday's huge lineup of unmissable DJ sets is Sydney-local Ruby Fields. Gaining a plethora of awards and accolade nominations at such an early stage in her career, Ruby has amassed a huge cult following from the release of "Dinosaurs" and "P Plates," and has been hot on a streak of tours this year. Bringing her sunburnt indie-punk aura to the Steyne this November, round up your mates for her unmissable in-your-face headline performance.

Adding to the long list of stellar acts mixing throughout the weekend, Volcom Stone will be transforming a level of the iconic Northern Beaches venue with a kickin' half-pipe for shredders to showcase their skills alongside Australian Skater of the Year and hometown hero Rob Pace. Outside of the skate park, punters will have the chance to get inked by Thanks Tattoos and Manly natives Whistler Street Tattoo, get their nails done by Volcom's resident nail artist, attend the Nao Deane film premiere or for those keen on the surf, sit in on a live podcast stream by Ain't That Swell.

A testament to their history of celebrating culture, arts and live music over the years accompanied by a well deserved frothie, Young Henrys' weekender is set to turn the Hotel Steyne on its head as the Newtown locals' carry on their 10th birthday party celebrations. Continuing to champion our beloved local artists, venues and the fans that support them, Young Henrys with the backing of good-mates at Volcom are also giving away a three-night stay at Manly's iconic Hotel Steyne, shouting a bar tab for the whole weekend with limited-edition welcome packs on arrival.
For your chance to witness some of Australia's most exciting local artists at one of the Northern Beaches most iconic venues, RSVP here to secure your spot at Young Henrys' weekend-long festivities.
This is an edited version of a media release distributed by Young Henrys.