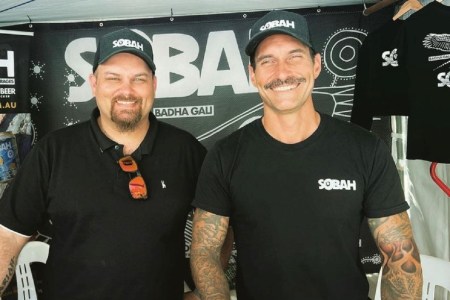 Sobah Beverages have announced Luke Cooper as their new head brewer as the Queensland-based non-alcoholic craft beer producers await the opening of their Gold Coast brewery later this year.
Known as the "bush tucker brewer", Luke's been with Sobah since November 2021 after a 20-year career in the Australian liquor industry, but the move into the head brewer role follows his recent graduation from TAFE Queensland's Cert III in Food Services specialising in brewing course. He'll join Sobah co-founder Clinton Schultz on the brew team and cater to quality control, new product development and overseeing Sobah's core range. He'll also assist with the installation of their new brewing equipment when their brewery is due for commissioning.
Luke said: "As a proud Wailwan man, Sobah's impact as a First Nations owned and led business had me truly hooked from day one. The fact that I get to work with native foods and to help develop new products for a real pioneer in this fast-growing industry that matches award-winning products with a mission everyone can get behind is a real privilege.
"I'm really excited to see what we can achieve at Sobah with our new brewery and with our great track record, story of impact and plans to build on five years of success."
Clinton added: "When we say we champion First Nations culture that's also a rock-solid commitment to training and employing First Nations Peoples and putting them into key roles in our business.
"Luke is already an experienced business development, marketing and sales professional with heaps of industry experience but now – with his graduation and training – he's all set to take on the important role of our lead brewer.
"As Sobah grows we look forward to First Nations Peoples taking on leading roles in our business and underpinning our commitment to being a First Nations owned and led business."