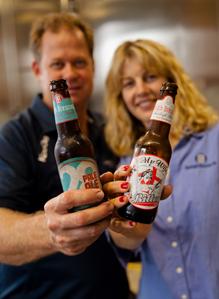 Iconic Queensland brewery, Burleigh Brewing, is pretty chuffed to announce that they have been named as finalists at 2013 Telstra Business Awards in both the Small Business and Regional Award categories.
It is a huge honour and Burleigh Brewing wants to send out a huge thank you to the anonymous person(s) who nominated them.
And while they're to excited to care whether they've won anything, Brennan and Peta would love their fans to "attend" the awards dinner with them by sending messages to flash up on the big screen. Telstra has set up a page where fans can leave messages of support for any of the finalists – simply follow this link and leave your message before 11th July.