Packaging is the last part of the brewing process but one of the most important. The transfer of the hallowed liquid into kegs, cans and bottles requires attention to detail to eradicate contamination and ensure that what a brewery is sending out to the wider world is in top condition and stays that way.
Many brewers have turned and are turning to HBM Packaging Technologies to fulfil all their packaging needs. Recently, HBM has added to their comprehensive range to now include the brewing process, with capability of designing and installing brewhouses for Australian and New Zealand breweries.
HBM Packaging Technologies has been in the packaging industry for over 30 years. An independent, Australian-owned company, it has brought quality packaging technologies and brands from Europe and North America to Australia, New Zealand and the Pacific. The brands it looks after include Comac, CFT Group, SACMI Labelling, Peco-InspX, Ocme and Pack Service. Whether brewers are looking to set up a brewhouse in which to make their beer, improve a specific cog in their packaging line or an entire system to get that beer out to the wider population, HBM has the solution ready to hand.
"HBM's portfolio includes brewhouses, canning, bottling, kegging, labelling, packaging & inspection solutions supplying both start-up customers through to ASX listed entities and International Brand manufacturers," says Gary Brown, managing director of HBM. "We supply individual equipment solutions or complete turn-key lines. HBM offer local real time support, servicing and spare parts."
Australian breweries
This year, HBM installed a Comac machine at Balter's Currumbin brewery that can fill 120 kegs every hour. One of the major advantages of this machine was its easy cleaning feature.
"What took them all day to clean can now be cleaned and filled in one hour," says Matthew Macfarlane, brewery product manager at HBM. "Working with Scotty Hargraves, Kieran Host and the Balter family, has been great and we are sure they will enjoy the new line."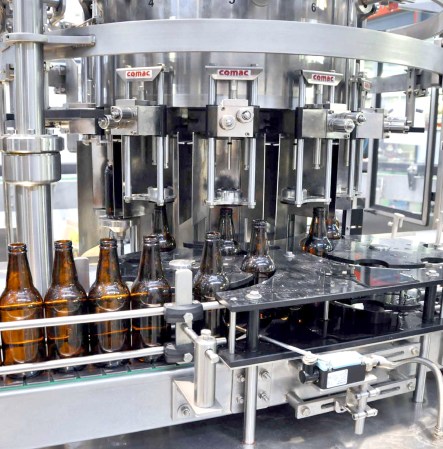 Over in Melbourne, Brick Lane Brewing has also seen the benefits from the installation of Comac equipment, this time a Combination line which fills 10,000 cans or bottles every hour, from depal to robotic palletiser. HBM also installed a semi-automatic keg washer and filler.
"Working closely with Jon Seltin & Paul Bowker at Brick Lane and Philip Browne of Spectrum Management, in conjunction with HBM and Comac, designed and installed a well-thought-out line," says Macfarlane.
Another purchaser of a Comac semi-automatic keg washer and filler was Colonial Brewing in Port Melbourne, near to HBM's office.
"It was a pleasure working with Ash and the team especially being our neighbours in Port Melbourne," says Macfarlane. "We try and time our meetings and catch ups to a Thursday and Friday Lunch or late afternoon; a little business and a friendly catch up over a beer and one of their famous pizzas or burgers."
As a small company, HBM prides itself on building relationships with breweries, sitting down for a coffee to offer advice and direction in the fast-growing and evolving world of brewing.
We provide the same level of support for a 'start-up' brewer as we do for a larger client," says Macfarlane. "Our view is that our relationship with our customers is a partnership and we will support you as you grow your business into the future. The industry is growing quickly, and new technology and solutions are popping up almost as frequently as the number of NEIPA. We try to keep up with the market and follow the trends from the various international trade shows."
BrewCon 2019
HBM will be at BrewCon 2019 this year, which is being held at the Melbourne Convention and Exhibition Centre, where they will be showcasing some of the global products they look after in Australia. Visiting their stall to talk about packaging lines and brewhouse installations could be as game-changing for brewers and would-be brewers as any of the talks over the course of the three days.
"We will have the ever popular Comac K2 Semi Automatic Keg Washer/filler on display and will introduce the full CFT offering to the market, Malt handling, Brewhouses, Cellar, CIP, Carbonators, Pre-Mix, Pasteurisers, Can Bottle and Keg fillers and complete end of line packaging," says Macfarlane. "Working with the likes of Comac and CFT, we can offer the individual components through to full turnkey solutions for existing or Greenfield businesses. We look forward to speaking to you no matter your budget."
The brands HBM looks after
Comac: Comac is a medium sized family business founded in the 1990s with a reputation for quality design and engineering. Initially in the wine industry where they were asked to develop a kegging solution, Comac is regarded as the leader in keg cleaning and filling solutions for the brewing industry. Comac supplies the Heineken Group and other international players in the beer kegging, bottling and canning sector, exporting as much as 98% of their production to 35 Countries around the world.
CFT Group: Founded in 1945, CFT Group is a leader in liquid food and beverage fillers, can seamers, beverage processing solutions including brewhouses. The business has a growing portfolio in the brewing/beer market, including Comac and ROLEC (Germany), manufacturers of high quality brewhouse solutions.
SACMI Labelling: SACMI Labelling is a division of the SACMI Industrial Group and is a leading European manufacturer of bottle and can labelling machinery for self-adhesive, cold glue, hot melt and combo labellers, as well as shrink sleeve applicator machinery.
Peco-InspX: Peco-InspX, based in Silicon Valley, is a world leader in high definition X-Ray inspection systems for detecting foreign matter & fill-height, closure fitment (bottles) and dud pressure detection (cans).
Ocme: Ocme based in Parma, Italy are a leading supplier of medium to high speed case packers, shrink wrappers, tray packers and robotic palletising for the beverage industry
Pack Service: Pack Service is based in Spain and produce a range of cardboard sleeving equipment for the automatic packaging of individual and multi-packs of bottles and cans.
To find out more about how HBM can help your brewing business, visit the HBM website or call Matthew Macfarlane on +61 419 019 501.