Normal
0
false
false
false
MicrosoftInternetExplorer4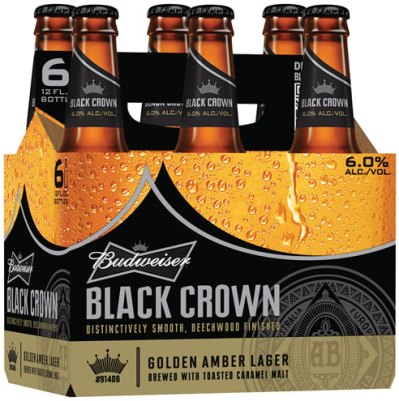 Budweiser made headlines this week, winning the right to trademark the term Bud in Europe and launching a new 'craft' version of their classic Lager.
The permanent extension of the Budweiser line is known as Black Crown and launched ahead of the Super Bowl kickoff – guaranteeing a captive audience of people that were presumably (mostly) drinking Bud anyway.
In a move that is not dissimilar to the Perfect Lager Project here in Australia, Budweiser launched Project 12, asking the 12 national brewmasters on its books to create a version of the original. Six were then chosen and farmed out to consumer testers. The winning brew is the Golden Amber Lager they have crowned Black Crown.
Budweiser describes the beer as follows: "With a blend of two-row caramel malt and four types of domestic hops, Budweiser Black Crown is finished on a bed of Beechwood chips for a smooth, balanced taste. Incorporating the proprietary yeast directly descended from the original Budweiser yeast strain used by Adolphus Busch in 1876, Budweiser Black Crown retains the key characteristics of Budweiser with its clean taste and high drinkability. Featuring more body, color and hop character than the flagship lager, it also has a slightly higher alcohol content at 6% ABV."
According to the successful brewmaster, Bryan Sullivan of LA, the beer has more body and a "touch" more hop character.
Hilariously, some beer commentators have taken this to signify that Budweiser is finally admitting something that has been obvious to others for a while: their beer has no flavour.
The brew is expected to be a massive seller across the US.
In another win for Budweiser owners AB InBev, the have been permitted to trademark the name Bud in Europe after a case put forward by Czech company Budejovicky Budvar was dismissed.
According to Budejovicky Budvar, it holds 380 trademarks registered in 101 countries, including Budweiser, Budvar, Budweiser Budvar and Bud.
"The coexistence of the trademarks in any country must be considered a serious and everlasting threat for our intellectual property and thus for our survival in the long term as well," said Budweiser Budvar Chief Executive Jiri Bocek in a statement this month.
st1:*{behavior:url(#ieooui) }
/* Style Definitions */
table.MsoNormalTable
{mso-style-name:"Table Normal";
mso-tstyle-rowband-size:0;
mso-tstyle-colband-size:0;
mso-style-noshow:yes;
mso-style-parent:"";
mso-padding-alt:0cm 5.4pt 0cm 5.4pt;
mso-para-margin:0cm;
mso-para-margin-bottom:.0001pt;
mso-pagination:widow-orphan;
font-size:10.0pt;
font-family:"Times New Roman";
mso-ansi-language:#0400;
mso-fareast-language:#0400;
mso-bidi-language:#0400;}