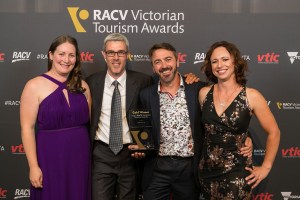 Bright Brewery has been announced as the Gold Award winner for Tourism Wineries, Breweries and Distilleries in the 2018 RACV Victorian Tourism Awards, backing up its 2017 win in the same category.
The awards were held at Melbourne's Crown Palladium on 22 November.
"We are immensely proud to have won this award again in 2018, and we were chuffed to be in such excellent company, competing for our award against some truly great Victorian businesses, such as Domain Chandon (Silver), The Shiraz Republic (Bronze) and Sedona Estate (Finalist)," comments Scott Brandon, who founded Bright Brewery in 2005 with his late wife Fiona Reddaway and their friends David and Julia.
"At Bright Brewery, we are driven by three values: to be active – in both the physical lifestyle which is so synonymous with mountain life and also active in our community; to be sustainable – both as a business and in the way we tread on the environment; and to be authentic – we do what we say we're going to do. Bright Brewery was founded on these values and we live them every day.
"I am immensely proud of all of our staff, and this award is for every one of them. It would not have happened without them."
The brewery is located in Victoria's Alpine region, which Brandon describes as "a spectacularly unique part of the world".
"Bright Brewery is passionate about making our region an even better place to live, work and play, through supporting local businesses, events and clubs," he adds. "Our region is the best place to visit in Australia and we want everyone to experience a slice of what we enjoy every day.
"The Awards are very important to us as a business and we appreciate the experience and expertise of the judges, mentors and whole VTIC team in helping to grow not only our business, but the entire Victorian tourism industry.
"We look forward to defending our title again next year as we strive for Hall of Fame status by winning three Gold Awards in a row."
The brewery is also set to release two beers – Alpine Explorer XPA and Rule 47 Brut IPA. Alpine Explorer is described as a 'premium, hopped-up lager', while Rule 47 is a collaboration of the High Country Brewery Trail.
The beer, which was created by Bright Brewery, Black Dog Brewery, Rutherglen Brewery, Bridge Road Brewers, Blizzard Brewing Company, Social Bandit Brewing Co, King River Brewing and Sweetwater Brewing Company, showcases local hops and features bright fruity notes of citrus, grapefruit and pineapple.