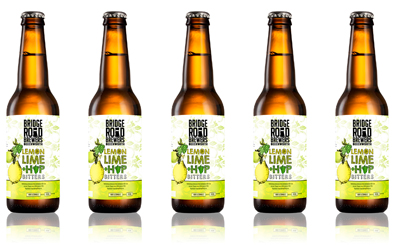 Victoria's Bridge Road Brewers has launched its first soft drink, Lemon Lime + Hop Bitters.
The brainchild of brewery founder Ben Kraus, the idea for the non-alcoholic beverage came about after he noticed how popular lemon lime and bitters was at his brewery bar.
"We introduced our own carbonated water to the brewery, Brew Water, about three or four years ago. It has been an idea I was thinking about since then," Kraus told Beer & Brewer.
"Our most popular style of soft drink over the bar is lemon lime and bitters. I wanted to create something relevant to the brewery and our industry. As hops are also a bittering agent, it made perfect sense to use hops as the 'bitters' in this drink."
Australian hop variety Enigma has been used in this soft drink as its lifted white grape and fruit characters work well with lemon and lime.
"It tastes like a lemon/lime soft drink, albeit not as sweet, with a slightly lower carbonation and a noticeable bitterness after consecutive mouthfuls. I deliberately keep sweetness lower than a standard soft drink, as I prefer drier beverages. Enigma is evident in both the aroma and flavour profile of the drink and balances well with the citrus flavours."
This drink was produced and bottled at Bridge Road Brewers in Beechworth, using a lemon and lime mix developed in conjunction with a Melbourne-based drink development team. Hops are added to the drink immediately before transfer to the bottling tank to ensure the freshest possible hop flavour.
Lemon Lime + Hop Bitters is just the beginning according to Kraus, who said they have a couple of other soft drinks with hops "on the cards".
Bottles are available wholesale from Bridge Road Brewers and will retail at bars and cafés for $4-$5.