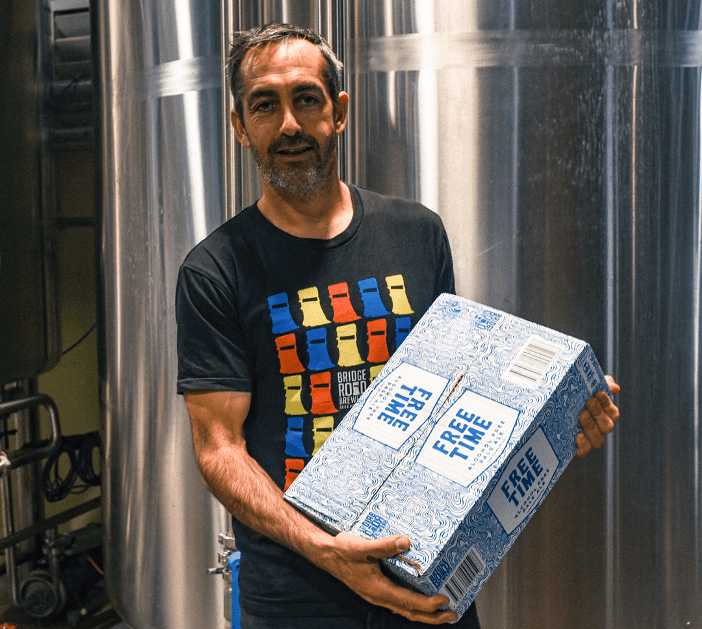 It might seem counterintuitive for a business that sustains itself on the sale of alcoholic beverages to be supporting an organisation that promotes abstaining, but for Bridge Road Brewers it's a paradox worth pursuing.
After throwing their own hat in the burgeoning ring that is non-alcoholic craft beer with the Free Time 0.5% Pale Ale mid-way through this year, when they pledged $5 from every case of it sold in July to the Dry July Foundation, the Beechworth brewers have just given the charity $5,000 to help improve the comfort, care and wellbeing of people affected by cancer.
Bridge Road's founder Ben Kraus (pictured) feels their contribution is twofold.
"Free Time is a fantastic alcohol-free beer alternative to help people get through what can be the longest month of the year," he said. "The flavour profile is hard to differentiate from other Pale Ales that contain alcohol, and it can be a great substitute when people feel the need for an alcoholic beer.
"Our customer base and industry have a strong interest in Dry July, and giving up booze for a whole month can be a huge achievement, so these people are more likely to generate greater revenue for the Foundation.
"We also feel it's important to share the message that Dry July isn't about giving up booze; it is about raising funds. While it can be positive to take a month off drinking, it is unfair to claim one is doing Dry July if they aren't raising money for the Foundation."
The likes of Bridge Road's initiative helped the Dry July Foundation raise $13.3 million from this year's campaign with the funds going towards the likes of the Cancer Council and the the Leukaemia Foundation. Since founding in 2008 the charity has been able to generate $73 million from over 290,000 individuals choosing to go dry in July and raising funds while they're at it.
Foundation CEO Katie Evans said: "We're pleased to know there are some great non-alcoholic options to support our Dry Julyers through the month. It's also fantastic to see support coming from businesses in communities where Dry July Foundation funding is at work, such as Cancer Council's cancer patient accommodation Lilier Lodge in Wagga Wagga, and a McGrath Breast Care Nurse in Albury/Wodonga".
To register your interest to take part in Dry July next year, whether as an individual or as a team, head to the charity's website.