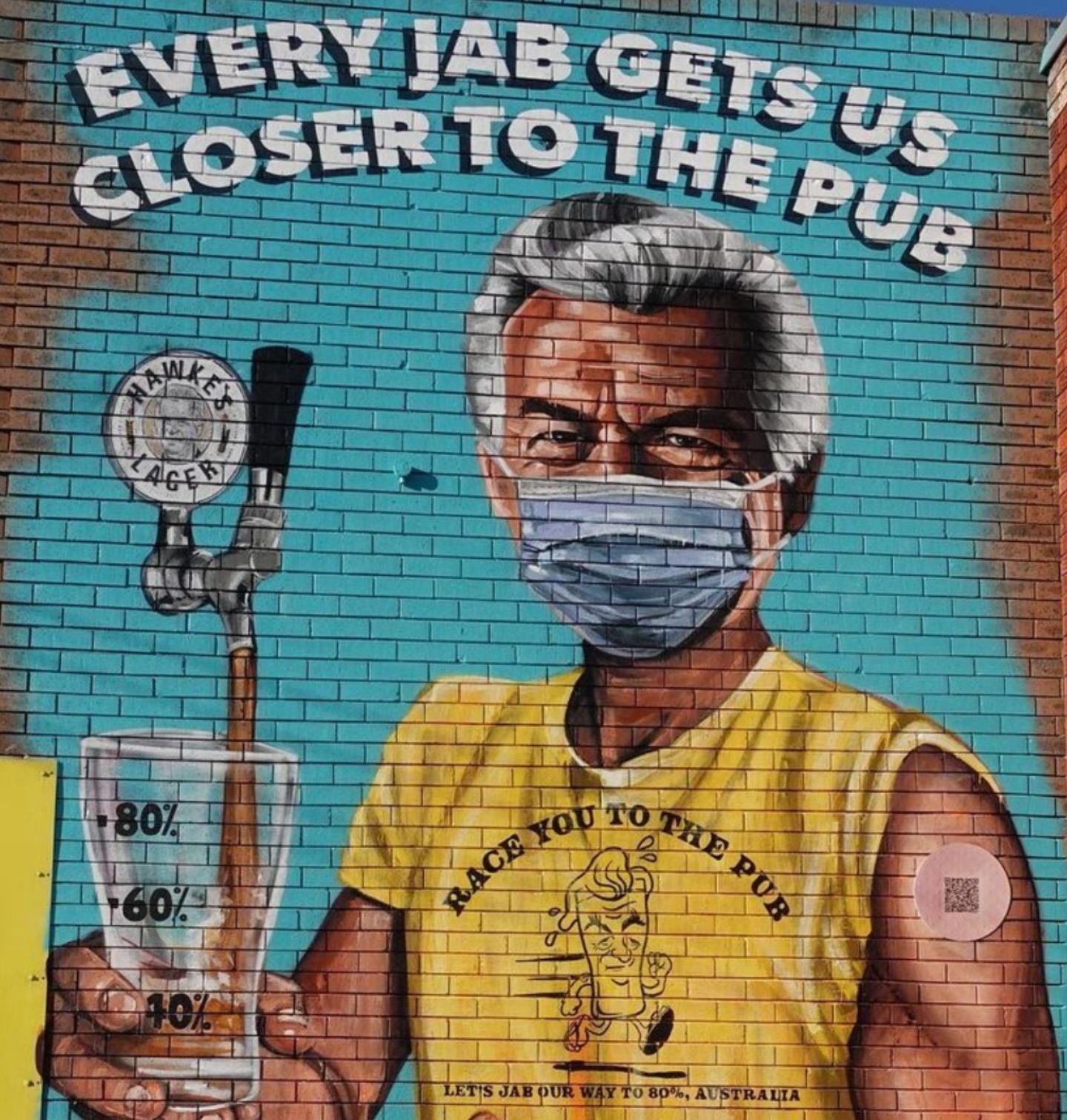 After its Jab & Slab initiative kicked off a slew of Australian businesses incentivising the nation to get vaccinated, Sydney's Hawke's Brewing Co. has partnered with street artist Scottie Marsh to create a new mural in the hope of once again driving the vaccination message, while raising funds for the hospitality industry.
Located at Hawke's new brewery site in Marrickville, the mural stretches across a 10 metre wall which the company has donated to the inner west artist for on-going art projects. Marsh's first piece shows a masked and freshly-jabbed Bob Hawke, with the former Prime Minister's bandaid screen-printed with a QR code that directs people to a website where they can find their nearest Covid-19 vaccine clinic.
Known for his love of beer, Hawke is also seen holding a partially-filled schooner glass, which Marsh will periodically top up over the coming weeks as the country hits its various vaccination percentages. Marsh will put his finishing touch on the schooner of Hawke's Lager when the nation reaches 80 per cent in double vaccinations, a target that the government has suggested will give Aussies their best chance of getting back to the pub.
"It's been encouraging to see jabs on the rise. And now, with more vaccines becoming readily available, it's time to find another gear", Hawke's co-founder Nathan Lennon said. "The sooner we hit 80 per cent, the sooner vulnerable businesses can get back on their feet, and the sooner we can all get back to living our lives – less lockdowns, more freedoms and yes, freshly-poured beers at our favourite venues. Hopefully just in time for Summer."
With hospitality one of the worst hit industries throughout the pandemic, the beer company is hoping to raise awareness and financial support for their "hospo mates", stating that interactions with the mural on its social media will unlock up to $10,000 in donations to Tip Jar, a hospitality relief fund that raises and directs money to those in the industry that need it most.
Hawke's will also be selling "Race you to the pub" T-shirts via their website, with a $5 donation from every sale going to Tip Jar. Those who wish to unlock donations for the Australian Hospitality Relief Fund can head to the Hawke's Brewing Instagram page where information is detailed on the mural post.
Anyone can unlock donations for Tip Jar's Australian Hospitality Relief Fund, wherever they are. Here's how:
Go to the mural post on Hawke's instagram page and Hawke's will donate $1 to Tip Jar for every comment in the post where someone: (i) tags a mate they'd love to have their first beer with and (ii) tags the venue they'd love to have their first beer and (iii) uses the hashtag #raceyoutothepub
Hawke's will donate $2 to Tip Jar for every repost of the original post, providing they include in the caption: (i) tag @hawkesbrewingco and (ii) tag a mate they'd love to have their first beer with and (iii) tag the venue they'd love to have their first beer and (iii) use the hashtag #raceyoutothepub.
This is an edited version of a media release distributed by Hawke's Brewing.