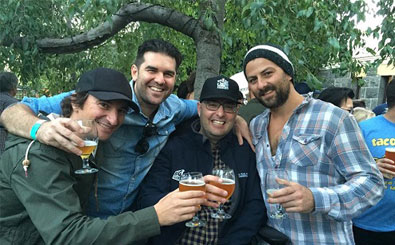 Written by Deborah Jackson, editor National Liquor News
Brewmanity along with Balter Brewing Co. have raised just over $50,000 for the Cure for MND Foundation on the success of their collaborative brew, The Beast Tamer, at Good Beer Week.
David Neitz, director of Brewmanity, said the Beer vs Beast event at Good Beer Week "ended up being the biggest ever single day event in Beer Week history, which was absolutely sensational and we raised just over $50,000 on that day".
This follows the success of the Yenda Wheel of Beer at the Great Australian Beer SpecTAPular (GABS), which saw Brewmanity partner with the Australian Beer Company and GABS to construct a full sized ferris wheel, raising $10,000 for the Cure for MND Foundation.
Brewmanity launched in September 2015, when a bunch of beer loving boys stopped to imagine what would happen if every beer they drank contributed to doing something good in the world, and since then it has raised more than $100,000 for the MND Foundation and donated over 50,000 days of clean drinking water for communities with no access to it.
"We've been up and going for a few months now with our Pale Ale, but on the back of Good Beer Week we are now releasing The Beast Tamer as our second beer, it's a big 6.9 per cent, really well-balanced beer, with bitterness up there at around 50, but really nice melon flavours coming through. We're just in the process of brewing that at the moment and hope to release it in the next month or so," said Neitz.
"We do have two kegs leftover from the event so we are going to be putting those on tap at Beer DeLuxe at Federation Square this weekend, so if anyone is interested to get a taste of The Beast Tamer before it's released then it will be on tap there."
The Beast Tamer is a full strength DAPA (Double Australian Pale Ale) reflecting the Australian slant on strong 'hop forward' Pale Ale styles.
Australian raw materials were used, with alcohol content coming in at 6.9 per cent, colour range 20 EBC, and bitterness sitting at 50 IBU. It has a melon hop aroma and resinous piney dry hop character, complemented with a well-balanced malt profile resulting in a complex flavoursome beer.
"We're releasing The Beast Tamer in kegs at this stage and then we're eyeing off putting together a Beast Series and making sure that each of the beers in the Series always donates back into the Cure for MND Foundation and has that connection to finding a cure.
"Obviously we want to have that really strong focus of creating great beer, which is the major thing we do, but we want to make sure that the Beast Series always connects back and gives a bit back to help finding a cure for the Foundation."
The Beast Tamer will initially roll out in kegs, but will look to go into cans in the later part of this year and will look at ranging both on-premise and off-premise.