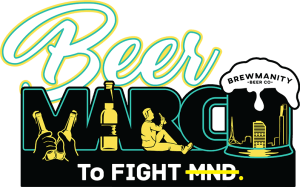 Brewmanity's Beer March kicks off on Saturday with an event at Beer Fest in Melbourne's Botanic Garden.
The month will see the brewery send a keg of its Tango & Splash Juicy Lager to around 30 venues in Melbourne, as well as Beer Deluxe in Sydney and The Plough and Riverland venues in Queensland, to raise money for the Fight MND Foundation.
Each venue will sell the beer, which after being launched at last year's GABS Festival has now been incorporated into Brewmanity's core range in bottles and kegs. The venues will then donate the proceeds to the charity dedicated to fighting Motor Neurone Disease.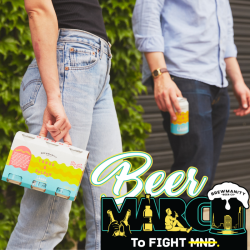 "This year, we've left the venues up to their own devices as to how exactly they'd like to promote it within their venue and to their community," says David Neitz, co-founder of Brewmanity and former captain of Melbourne FC. "Some venues are doing sausage sizzles and beers to raise additional funds. Beer Deluxe in Melbourne, I think, are doing a dollar per pie in addition to their fundraising. It really is the hospitality community coming together to support the cause which is just a beautiful thing."
Last year, Brewmanity raised $30,000 and is hoping to top that in 2019. At Brew Fest, which takes place on 2 March, they have sold 50 charitable tickets, raising $2,500, and will install an ice dunking machine on the day.
"Myself and some brewers are getting dunked and members of the band and a few people from the Fight MND Foundation are going to put their hands up to get dunked as well," says Neitz. "$2 from every beer can sale is going to Fight MND Foundation, and there are other things going on to get things started in the right way as well."
Brewmanity itself was founded three and a half years ago after a friend of co-founders Neitz and Jamie Fox was diagnosed with Motor Neurone Disease and they wanted to find a way to raise funds to research and fight the incurable disease.
'Initially we did a happy hour and got pubs involved and raised about $50,000 to kick things off, and then people kept wanting to support our beer and buy our beer and it's continued on from there," says Neitz.  "That was the beginning behind it. [It's] an unfortunate way to have to start, but it's been the catalyst to inspire us to get off our backsides and do it.
"It's critical for brewing companies to establish relationships with the hospitality community. I think that's an important word community. If you look at the things that good pubs and hospitality venues do, they're always doing things to support others within their local community so I think the value that the pub brings is actually unheralded in a lot of ways."