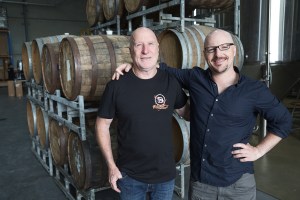 Dainton Brewery has opened its doors for the public to hold shares as it plans a second tap-house and a barrel-ageing program.
After two years of rapid growth, Dainton is pushing forward to the next stage of its evolution and is looking to get new 'family members' on board the journey.
Investors will have the chance to own a part of the craft brewer, with investments ranging from $100 to $10,000. Dainton Brewery, which was founded in 2013, is hoping to raise up to $1 million from investors through an equity crowdfunding offer with Birchal, with a minimum window of around $500,000. Funds raised will go towards a new barrel ageing program, bottling line and also towards opening a new taphouse 30 minutes from the current brewery.
"We are very excited about the opportunity to offer shares in the company and to give people the chance to become more involved in what we do," says Dan Dainton, who co-founded the brewery with his dad Kevin. "We are a very collaborative company and are 100% family owned. Not only do we do lots of collaborations with other people, it's also the way we do things in-house. Everyone gets together and talks through the next recipes and new ideas. In fact, we function like a family with everyone having their say. It leads to wonderful creativity and diversity in what we produce."
Investors will receive ordinary shares in the company and also be offered priority access to limited release beers as a reward.
"The extra goodies we're throwing in as value-adds are really a big part of what we want to offer," adds Dainton. "Having exclusive beer releases that only 'family members' (shareholders) have access to is something we want to pioneer as a way of thanking the people that have stood behind us. It's creating a fanbase with real buy-in, so they've got some ownership, and we've got some more people to bounce ideas off. It's about sharing the journey."
Investors will be given "a real say" in how Dainton's beers are made, and will have access to some exclusive products coming out.
"We're not trying to cut off normal consumers, but for a small investment, you get some of the perks that come with it as well," says Dainton. "Those new beers will be barrel-aged. We really want to be rewarding the guys and girls that get behind us.
"Another thing we're looking at setting up is a beer vault. Investors who have their free beers, they'll have somewhere to store the beer and then come in and taste it. It's a bit of an exclusive VIP room, that's of real interest to us. Whether that's at the brewery or the hospitality venue, we've not decided. But when they come to our home, it's a home for them.
"Our new 'family members' are most likely to be current fans who want to have more input and collaboration with us and other supporters of what we do. We're expecting that even some actual blood-relatives will tip-in, with 'Daintons' from the USA and UK being long-time fans."
The barrel-ageing project is currently scheduled to be attached to the current brewery, but the long-term strategy is to set up "a second, dedicated barrel-ageing venue" in another place, perhaps next to the new taphouse, which will be built 30 to 40 minutes away from the brewery. The brewery already has some locally sourced and American barrels.
"We think that we're offering terrific value to investors and we're looking forward to having more like-minded people on-board with us as we grow our company and enjoy the ride along the way."