Brewing is a collaborative industry and the number of breweries getting together with local businesses, bands or each other to produce beers together is a great thing to see. Here are some of the most recent collaborative launches.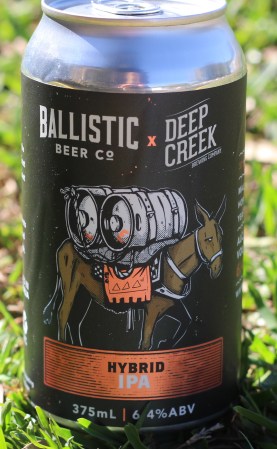 Ballistic and Deep Creek's Hybrid IPA
Ballistic Brewing has collaborated with Kiwi brewery Deep Creek Brewing Co. to create Hybrid IPA.
The beer is intended as a halfway house between West Coast and East Coast IPA styles, with West Coast "grit and bitterness", but also an "East Coast-style dry-hopping schedule".
Tasting notes include "passionfruit and gooseberry aromas, with fresh bursts of pineapple flavour".
Made using Pale and Munich malts, and Nelson Sauvin and Galaxy hops, Hybrid IPA has a 6.4% ABV. It is available in kegs and 375ml cans.
High Country brewers cook up #Rule 47 beer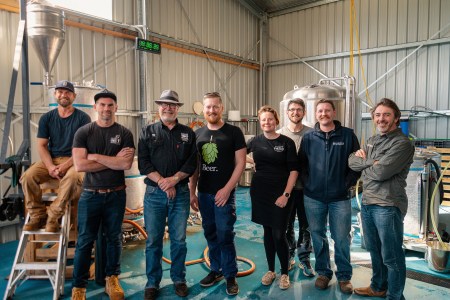 The nine craft brewers that officially make up the High Country Brewery Trail in Victoria have brewed their annual collaborative beer.
Two new breweries – Mitta Mitta brewing Co and Billson's Brewery – joined the other seven to create #Rule 47, a Kveik red IPA.
Mitta Mitta founders Tim Cabelka and Alec Pennington hosted the brewday this year.
The beer features a Norwegian strain of yeast, Voyager Craft Malt from a single origin small batch craft house, and hops from the Ovens Valley's Rostrevor Gardens.
Philter and Dear Seattle
A beer and band collaboration featuring Dear Seattle and Philter Brewing has resulted in a new beer for this September's Beer InCider Experience.
The Northern beaches punk quad partnered with Philter Brewing to create and Australian lager called Beer Seattle. Made with the "freshest raw materials" from Australia, the beer has a "crisp, clean taste" and according to Philter Brewing's managing director Michael Neil is "exactly the kind of beer that Dear Seattle and Philter drink when we hang out".
"Dear Seattle really love our branding, so we wanted to develop something that looked like Philter while incorporating influence from the band's own graphic handwriting on their latest album campaign," says Neil.
Garage Project and Meridian celebrate renewable energy certification
Garage Project has launched Turbine beer in conjunction with Meridian, New Zealand's largest renewable electricity generator, to celebrate their recent renewable energy certification.
Garage Project is located "in the shadow" of Wellington's Brooklyn turbine, which produces energy that is used by Meridian.
Turbine Pale Ale is a celebration of the new partnership that gives Garage Project the power to brew in a more sustainable way. It marks the first time that a certified renewable energy product has been made available in New Zealand.
"I think it's important to set an example and show you can be in business and do your bit for sustainability too," comments Jos Ruffell, co-founder of Garage Project. " We can brew the beer we love, be sustainable, and at the same time celebrate Wellington, the city we love. Turbine  Pale Ale is about all of these things."