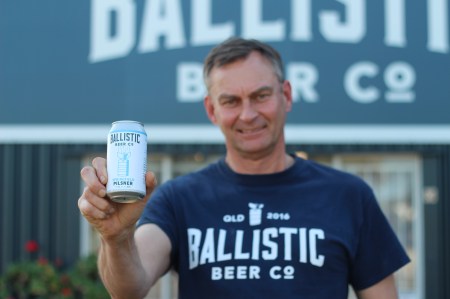 Queensland brewery Ballistic Beer Co. has announced the opening of its third hospitality venue and second brewery.
The new venue is located in the western suburb of Springfield Central, Ipswich. The Springfield Brewery, Bar and Kitchen is scheduled to open in October 2019.
"It's been about six months' work," David Kitchen, founder of Ballistic Beer Co., told Beer & Brewer. "It certainly hasn't happened quickly!"
Ballistic, which was founded in Salisbury in 2016, is refitting the old Springfield Central Tavern site in Springfield Education City.
"Someone brought it to our attention," continues Kitchen. "It was formerly a tavern and it was everything that you could conjure up when you think about a tavern – 20 TVs, a disco ball, flashing lights. I think as a venue, it wasn't really suited to what Springfield is, which is a master-planned city development."
The brewpub will feature an 800-litre brewery that will focus on brewing different styles of beer, using different brewing methods and unique ingredients, allowing the main brewery in Salisbury to concentrate on the core range.
"At the original site, we had a 200-litre pilot brewery, but while that was fine when we were brewing for one venue, when we wanted to do specials then three kegs don't go that far," says Kitchen. "Our hope is that with the 800-litre, there'll be plenty of one-off specials at Springfield and we'll also do some specials that we'll put across all three venues."
Given the distance between Salisbury and Springfield isn't great, Ballistic will be sending its younger assistant brewers out there, giving them the chance to brew their own beers more often and develop their skills more quickly.
The hospitality side of the Springfield business consists of a 350-set venue, including function spaces, a beer garden, acoustic live music and a beer tap system pouring 18 different Ballistic and other craft beers. Wine and spirits will also be on offer. It is expected to employ around 30 full- and part-time staff.
Ballistic's approach is to "produce venues that are excellent for families", something that has particularly driven the project.
"We have a small amount of grass (in Salisbury) where children can play and ride on their bikes," says Kitchen. "That's a model that's worked well for us, so when we were looking for a venue we were looking for a place that has some grass.
"Springfield has this massive grassed area right in front of the brewery, so you can sit in the brewery and watch your kids playing on the grass. They've got a lot more room. Hopefully this will become somewhere that people feel very comfortable bringing their children down to.
"Children can play while parents socialise and hopefully they'll see parents engaging in alcoholic consumption in a responsible manner. I think it's a far better way to teach people to drink responsibly than trying to have lock-out laws. Positive modelling is far better than trying to institute laws."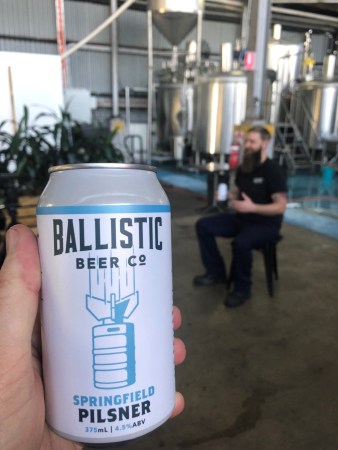 To celebrate the launch, Ballistic has created a new beer – Springfield Pilsner. It has a 4.5% ABV has been made using Pilsner malt and Perle and Halletau hops. The beer has been canned and will be a regular at the Springfield venue.
"I think it's a beautiful pilsner," says Kitchen. "I'm not a big fan of low ABV, I'm a high ABV tragic, but I've had a number of them and I'd be happy to drink it any time."
This is Ballistic's third venue, and Kitchen explains to Beer & Brewer his reasoning behind the opening, and his strategy to open more.
"Getting taps is going to get increasingly difficult as more people open up breweries. If BrewDog get themselves operational that's going to certainly take a lot of tap handles… and there are plenty of of good breweries in Sydney and Melbourne that are trying to break into Brisbane as well.
"Tap handles are not going to be any easier to get, so the best way for us to guarantee demand is to generate our own demand by running these venues.
"That's one part. The other part is that if we do it right, it's an excellent marketing tool for us. If we can provide an excellent experience and you have a great time when you're at our venues, then when you're standing in a bottleshop and there are 25 different cans to buy, hopefully you'll think 'I enjoyed Ballistic, I'll buy another one of theirs now'.
"It's a powerful marketing tool. I don't think we're the only brewery that's latched onto that."