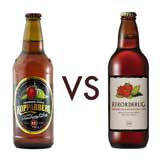 Australia's flavoured cider drinking community looks set to be the battleground between two behemoths of the beverage industry this summer, as Coca-Cola Amatil (CCA) re-enters the liquor market with a vengeance after its contractually-enforced absence of several years – just in time to go up against CUB.
Additional to the already-reported Australian launch of Blue Moon (Molson Coors, US) into the Australian market, CCA also holds a distribution license for the volume-selling Rekorderlig flavoured cider brand – which will go head-to-head with CUB, the Australian arm of US company SABMiller, which recently signed a distribution deal with Swedish brand Kopparberg.
With both companies well-known for not being shy when it comes to spending marketing dollars – and a market segment that is growing more rapidly than almost every other liquor category, we can expect some serious fireworks over the course of the summer.