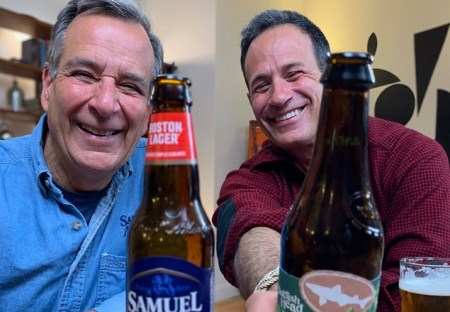 The Boston Beer Company and Dogfish Head, two of the US' largest craft breweries, have announced plans to merge.
The deal values Delaware-based Dogfish Head (DFH) at around 300 million USD and will see the combined entity retain its status as an independent craft brewery, as defined by the Brewers Association in the US.
The Brewers Association defines American craft breweries as "small and independent" – with "small" defined as a brewery with an annual production of six million barrels of beer or less.
Six million US beer barrels is equivalent to around 704 million litres.
The Boston Beer Company is perhaps most well known for brewing Samuel Adams Boston Lager and is the second-largest craft brewery in the US, producing approximately 4.3 million barrels in 2018.
Prior to the deal, Dogfish Head ranked 13th largest, and is on track to sell nearly 300 thousand barrels for the full year 2019.
Both breweries said that the deal will help them compete against "the global beer conglomerates" that are "50-and 100-times" their size, also pointing out that the combined company will "still" represent "less than 2%" of beer sold in the US".
"We believe we are creating the most dynamic and diverse American-owned platform for craft beer and beyond," said Jim Koch, founder and chairman of The Boston Beer Company, in a statement on his brewery's website.
"Dogfish Head has a proud history as a craft beer pioneer with a brand that is beloved by American consumers and highly respected by the industry.
"Sam and I have stood shoulder to shoulder in some of the defining efforts in craft brewing including the creation of the Brewers Association, the craft beer definition, the craft brewer seal and the creation of the SAVOR food and beer event.
"This combination is the right fit as both Boston Beer and Dogfish Head have a passion for brewing and innovation, we share the same values and we will learn a lot from each other as we continue to invest in the high-end beer category."
Sam Calagione, founder and brewer of Dogfish Head, said that the merger "better positions" Dogfish Head for future growth, and that "nearly all of the proceeds" from the merger will be reinvested back into the combined entity.
He also added that a percentage of the Boston Beer stock that he receives will be used to establish a foundation and provide "funding to various local charitable programs".
The company will be led by Boston Beer CEO Dave Burwick, who said that the newly merged entity will have the "highest quality, most distinct, high-end portfolio, from both a price-point and product perspective", adding that "We expect that we'll see more consolidation in the craft industry over time".
Reaction on social media has been mixed, but perhaps not as negative as when an independent craft brewery is bought by a multinational company like AB InBev or Heineken.
"I don't understand why the uninformed equates this to the same thing as being boughtout [sic] or selling out, they merged their resources to make each company stronger, nothing else will change with respect to the independent aspect of each company…" replied one commenter on a Facebook post from DFH announcing the deal.
Others were more sceptical, with another top voted comment reading: "Ugh as happy as I am for Sam and his brewery but I have a feeling this is going to be the end of a great beer experience."
The transaction is expected to close late in the second quarter of 2019, subject to customary closing conditions.