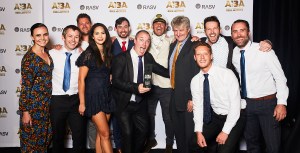 The Keller Door Schwarzbier Draught from 4 Pines Brewing Company was named Champion Australian Beer at the Australian International Beer Awards (AIBA) presentation.
Hosted by the Royal Agricultural Society of Victoria (RASV), the AIBA presentation took place at The Peninsula, 14 Harbour Esplanade, Docklands, Melbourne on Thursday 16 May.
Queensland brewers were well represented, with Balter Brewing named as Champion Large Australian Brewery and Green Beacon Brewing Co snaring Champion Medium Australian Brewery. Victoria's Blackman's Brewing took Champion Small Australian Brewery.
Internationally, Firestone Walker Brewing Co was awarded Champion International Beer for its Feral One brew, while New Zealand took the three remaining Champion International Trophies. Champion Large International Brewery went to DB Breweries, Champion Medium International Brewery was awarded to Deep Creek Brewing Company and McLeods Brewery took home Champion Small International Brewery.
With the brewing landscape evolving over time, this year saw two new trophies introduced into the awards. Best Fruit Beer was awarded to Rodenbach Caractere Rouge, while and Best Wood or Barrel-Aged Beer went to Captain of the Coast, a beer from the United States.
The 2018 Champion Breweries – Black Hops Brewing, Green Beacon Brewing Co, Mountain Goat Beer and Philter Brewing – unveiled a collaboration brew at the event. The gose-style beer was called Achachacha Gose was made with traditional Bolivian fruit Achacha, cultivated in Queensland, as well as Weyermann Sauermalz and Galaxy hops.
"The AIBA is the largest annual beer competition in the world, offering exhibitors the opportunity to benchmark their beer against industry standards to stand among some of the most talented brewers in the world," says Paul Guerra, CEO of RASV. "With almost 2,600 entries from more than 400 breweries across 26 countries, 2019 marks the biggest year in the awards' history and we look forward to seeing this growth continue."
A full list of Champion Trophies and Medals can be found below:-
CHAMPION TROPHIES
Champion Large Australian Brewery: Balter Brewing, Queensland
Champion Large International Brewery: DB Breweries Ltd, New Zealand
Champion Medium Australian Brewery: Green Beacon Brewing Co., Queensland
Champion Medium International Brewery: Deep Creek Brewing Company, New Zealand
Champion Small Australian Brewery: Blackman's Brewery, Victoria
Champion Small International Brewery: McLeods Brewery, New Zealand
Gary Sheppard Memorial Trophy For The Best New Exhibitor: Breakside Brewery, Oregon, United States
MAJOR TROPHIES
Champion Australian Beer: Keller Door: Schwarzbier – 4 Pines Brewing Company, New South Wales
Champion International Beer: Feral One – Firestone Walker Brewing Co., United States
Best Australian-Style Lager: Steinlager Pure – Lion NZ, New Zealand
Best European-Style Lager (Excluding Pilsner): Buckskin Munich Helles – King Car Group, Taiwan
Best International Lager: Undercurrent – Draught Deep Creek Brewing Company, New Zealand
Best Pilsner: The Prospector Pilsner – Draught Hemingway's Brewery, Queensland, Australia
Best Amber / Dark Lager: Keller Door – Schwarzbier – Draught 4 Pines Brewing Company, New South Wales, Australia
Best Australian Style Pale Ale: North of Nowhere Pale Ale, Packaged – DB Breweries Ltd, New Zealand
Best New World-Style Pale Ale: Pale Ale, Draught – Cheeky Monkey Brewery and Cidery, Western Australia, Australia
Best International-Style Pale Ale: Balter Strong Pale Ale – Draught Balter Brewing, Queensland, Australia
Best British-Style Ale (Excluding IPA & Pale Ale): Summer Ale, Draught – Mountain Goat Beer, Victoria, Australia
Best European-Style Ale: Infinite Guide Gose, Packaged – Bravo Brewing Co., Guangdong, China
Best IPA: Hawkers West Coast IPA, Packaged – Hawkers Brewery, Victoria, Australia
Best Amber/Dark Ale: Traders, Packaged – McLeods Brewery, New Zealand
Best Porter: Black Shield Draught, Draught – Myanmar Brewery LTD, Yangon, Myanmar
Best Stout: Exit Milk Stout, Packaged – Exit Brewing, Victoria, Australia
Best Reduced/Low Alcohol Beer: Mid Range, Packaged – Black Hops Brewery, Queensland, Australia
Best Wheat Beer: TAP6 Mein Aventinus, Packaged – Schneider Weisse GmbH, Bavaria, Germany
Best Belgian/French Ale: Feral One, Packaged – Firestone Walker Brewing Co., United States
Best Scotch Ale/Barley Wine: Alba, Packaged – Cervejaria Bohemia, Brazil
Best Fruit Beer: Rodenbach Caractere Rouge, Packaged – Brouwerij Rodenbach, Roesalare, Belgium
Best Wood- And Barrel-Aged Beer: Captain of the Coast, Packaged – Pelican Brewing Company, Oregon, United States
Best Specialty Beer: Maui Express, Packaged – Denver Beer Co, CO, United States
DESIGN
Best Design – Label / Surface Graphic: Sabro: Single Hop Hazy IPA – Hope Brewery, New South Wales, Australia
Best Design – Outer Packaging: India Pale Ale – Mismatch Brewing Co., South Australia, Australia
MEDIA
Best Media: New South Ales, New South Wales, Australia