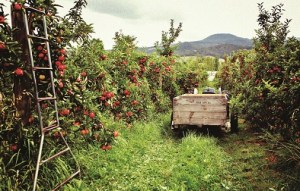 Cider Australia has released the final program for AusCider 2019, which officially opens in Hobart, Tasmania during World Cider Day on 3 June.
This is the first national cider conference to be held in Tasmania and will open with a message from Sam Reid, president of Cider Australia and co-founder of Tasmania's Willie Smith's Cider Makers.
There will then follow a talk on UK cider trends from Jane Peyton, British drinks educator and the UK's first 'pommelier'.
Updates on cider research will be provided first by Nigel Swarts, program lead at the Tasmanian Institute of Agriculture and the Australian Cider Research and Development Group, then by Madeleine Way, a PhD student from the University of Tasmania.
There will be updates on the cider market, orchard establishment and Fermentasmania, and that evening the AusCider 2019 Dinner will be held in the Cornelian Bay Boathouse.
On Tuesday 4 June, there will be a Cider Supplier Showcase, featuring a presentation from Caro Brown, president of Cider Tasmania and co-owner of Brady's Lookout Cider, a talk on agri-tourism from Andrew Sargant of Destination Marketing store, and a Cider Australia update from Reid.
There will also be a panel discussion over a cider and food matching, featuring Rodney Dunn, co-founder of The Agrarian Kitchen Cooking Social; James Kendell, co-owner of Small Acres Cyder; Jane Peyton; and Lynne Uptin, co-owner of Red Sails Cider.
"We have the UK's first accredited Pommelier Jane Peyton visiting the apple isle and she will share with us her vision for pairing food and cider," says Reid. "We are thrilled to announce that Rodney Dunn from Tasmania's multi award-winning 'paddock-to-plate' restaurant and cooking school The Agrarian Kitchen will join our panel discussion on cider and food matching, with insights that will help us take cider to the next level.
"Cider is having such a positive impact on the Tasmanian economy with Tasmanian producers punching above their weight at the premium end of the cider category, as recognised through the financial support provided by the Tasmanian Government to bring the conference to the state."
Tuesday afternoon will see attendees take lunch at Willie Smith's Apple Shed, following by a cider tour and a visit to the Tasmanian Institute of Agriculture. On Wednesday, visitors will have the chance to go on a Launceston tour for a presentation on yeast stress management from Tina Tran of AB Mauri, as well as tours of Brady's Lookout cider mill, a local distillery and lunch at Tamar Ridge Estate.
Thursday and Friday (6-7 June) is the Fruit Growers Tasmania Annual Conference.