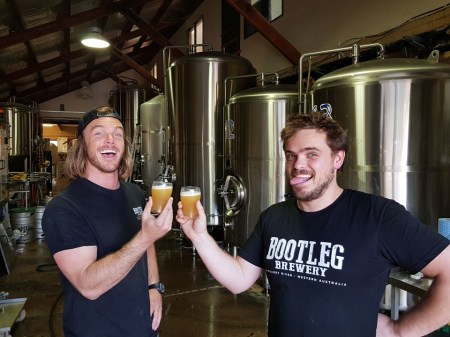 Bootleg Brewery is celebrating its 25th anniversary, which is coincidentally also the birthday of head brewer Dave Phillips, with a long table dinner and live music.
"We are thinking of pulling out the smoker for it and brewing a limited release beer," Phillips tells Beer & Brewer.
The brewery, which is located in the heart of Margaret River, Western Australia, was founded by Tom Reynolds as a retirement project in 1994 and, for many people in the area, is one of the original "gateways into craft beer".
"Bootleg being a pioneering brewery has been through a lot on its time on earth," says Phillips. "It's had a lot of staff come and go throughout the twenty five years and a lot of them have carried on there passion for beer to other venues and breweries. I think it's got a special place within the industry."
The brewery itself has recently undergone a change in ownership, having been purchased by Sam Sharma, who is a local businessman and owns businesses in Dunsborough and Busselton, including Xcape to the Cape.
"He is keen to upgrade the brewery," says Phillips. "We are also planning to increase the amount of attractions at Bootleg and create an amazing experience for young families.
"I'm excited to see the business go through a renaissance. Craft beer is amazing in Margs, there is a large amount of comradeship and some amazing products being produced.
"I think the goal is to work together as a industry to put the region on the map internationally for craft beer. The region is so well known for high end agricultural products so it makes sense to try and increase the area as a tourist destination."