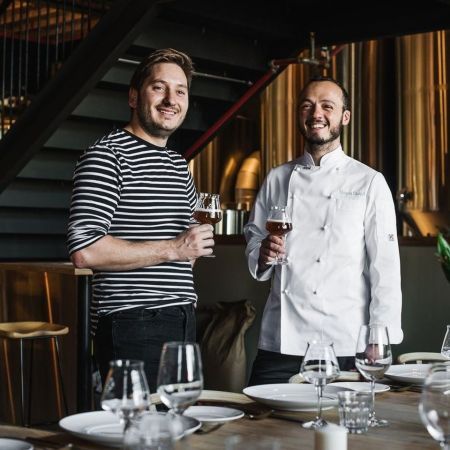 Years have felt a lot like dog years of late for Frenchies Bistro & Brewery's Vincent de Soyres. So, by that measure, instead of turning three, which they did last week, they could be more like a 21-year-old. And in a roundabout way that befits where they find themselves – matured, confidently standing on their own two feet and fizzing to dip their toes into more broader experiences than those of their formative years.
"I can't remember what we were doing before Frenchies – it feels like a life time ago," head brewer and co-founder Vincent said.
"We have achieved so much and have matured as a restaurant and as a brewery in a particularly challenging environment.
"But at the same time the fast pace of our every day life, and the steady growth of Frenchies, keeps us excited like it was our first day."
Back in mid-2017, when Vincent and friend Thomas Cauquill established their bistro and brewery in The Cannery complex in the inner-south suburb of Rosebery, the aim was to bring Parisian bistronomy culture to Sydney's table – both on the plate and in the glass. And they've achieved that in gastronomic amounts. Chef Thomas has won acclaim with his seasonal menus while the likes of Vincent's La Boussole barrel-aged Oud Bruin (Flanders brown), biere de garde releases, Belgian Tripel and fruit saisons have been lavished upon – both at the restaurant and increasingly further afield.
But just as they feel they have made a success of those early ideals they see now as the perfect opportunity to explore new branches within the craft world while still staying true to their roots.
After the successful release of experimental double dry hopped beers (DDH XPA, DDH Fresh Harvest IPA and DDH IIPA) to mark their second birthday in 2019, they kicked off a new series of DDH beers last month to toast this year's milestone. The first four in the series, all released at the same time, sold out in a matter of weeks. They were: Idaho 7 DDH TIPA; Azacca DDH IPA; Coconut Sabro Black DDH IPA; and Hazy Strata DDH IPA.
Two new releases in the DDH series were canned this week and are out now – the Rising Star XPA and a raspberry milkshake IPA called Pretty Please. Regular releases in the series will follow.
"We feel like the DDH series completes our portfolio and gives us access to a new market. We have lots of new customers who got attracted by our DDH series (last year) and who are now trying the rest of the range – beers that they wouldn't have considered otherwise," Vincent said.
"Calling it a DDH series was making a statement (and) we wanted to make it clear that this is about the hops and is a new dimension to our portfolio. As a brewer it is also great to be brewing IPAs – a style that I always loved making but since opening Frenchies it hasn't been a priority."
Alongside the new DDH series releases this month, Frenchies are also canning two more past favourites – the Tropical Brut IPA and the DDH Summer XPA.
Their sour barrel-aged program is also set for a new release as well. Following on from the La Boussole, the Le Temps des Cerises (cherry sour) and La Grosse Lola (apricot sour), Frenchies currently have a raspberry sour in barrels at the moment which is due to come out in a few months.
Vincent said he is currently working on a triple oat cream IPA and a series of NEIPAs – that go from session-strength to Imperial – that are all due for release before the end of the year.
"We are also releasing our Belgian Tripel for the first time in cans later on in September after six month's of careful cellaring – all can conditioned too," he said.
"The plan is to present and differentiate more clearly our three ranges of products: French beers; barrel-aged sours; and the DDH series.
"More importantly we want to continue working on the same philosophy of 'beers for food and friends'. For us that means balanced beers, as in able to match the gastronomic food from the bistro, and diverse beers that suit all our friends."
Frenchies Bistro & Brewery can be found in The Cannery complex on Mentmore Avenue in Rosebery, NSW. Head to their website here.
Contact Beer & Brewer by clicking here to share your news and views.