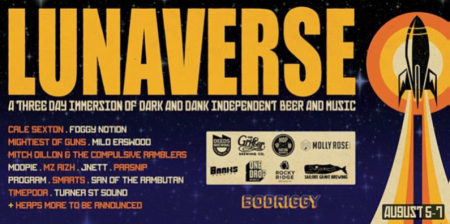 Melbourne brewery Bodriggy's LUNAVERSE festival is taking place August 5 – 7 for a celebration of "dark and dank independent beer and music".
Over the three days the brewery's Abbotsford brewpub will swell with a three-day music program and exclusive tap list and menu "dedicated to dissolving the lines between sound, space, craft and taste".
Breweries crafting new beers especially for LUNAVERSE, which is "the moon" to their Electric Kool-Aid Summer festival, include Banks, Deeds, The Grifter, Hop Nation, Molly Rose, Mountain Culture, One Drop, Rocky Ridge, Sailors Grave, Garage Project and Shapeshifter with more to be announced.
Kicking off from 12pm Friday, the music gets underway with Anti Fade Records curating performances with live acts from 7pm (entry is free until 6pm).
From 12pm on Saturday, guests can participate in an array of workshops and sensory events for free (registration required – limited spots available). All events will feature Bodriggy brewers plus special guests from participating breweries. Events include: a beginners beer sensory workshop; brewery show and tell; career pathways in the industry. From 4pm until close there will be live music and electronic acts, including Stingrays Upstairs (entry is free until 4pm).
Sunday will be free entry all day with live music presented by Heartworn Highways.
All guests will be invited to vote for their favourite beer from over 10 breweries via the LUNAVERSE app. Tallies will be presented live, with the winner announced on Sunday.
The festival had been slated to go ahead last year but due to the persistent Victorian lockdowns was postponed.
Buy tickets here or book a table here.