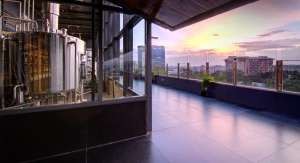 Cavalier Brewing has entered the Indian craft beer market by opening three breweries in the southern city of Bangalore.
Following a Victorian trade mission at the Hilton Ballroom in Victoria, Cavalier Brewing entered a partnership with Indian company The Chancery Pavilion to start building brewpubs across India.
"It (the trade mission) was an opportunity for foreign delegates to meet local craft brewers," recalls Steve Martin, co-founder of Cavalier Brewing. "The morning of the event, the director of marketing called one of our reps and told him to run to the ballroom with samples.
"Glenn turned up in shorts, thongs and a T-shirt with a six pack in an esky. He walked into a ballroom full of suits. It was pretty funny. But he started making friends and next thing we know, we're talking about building brewpubs all over India."
The Chancery Pavilion is a hotel group that wants to put brewpubs on the roofs of their five star hotels. They provided the infrastructure and sourced the equipment and will broker more deals moving forward.
"We got involved half way through the construction project, so we didn't get much input into the scope of the project and we had some difficulties," admits Martin. "But we'll be more involved next time. "
At present, Cavalier is brewing at three Bangalore sites – Alchemy, Brew Meister and a 4,000 sq m production brewery called Whattay (the Indian cheer to a six hit in cricket). Whattay will be Cavalier's entry into the wholesale market, while the other two are brewpubs, each with 1,000L fermenters. Both are on rooftops, with Alchemy sitting the ninth floor of the hotel.
"It's got unhindered view of Bangalore across the park," says Martin. "It's in the centre of town. It's the perfect setting. They're both rooftop brewpubs and that resonates well with people. Everyone loves a rooftop beer garden and these are ones with a brewpub built into it."
Brisbanite Nathan Ross is the head brewer in Bangalore, having brewed overseas previously in New Zealand and at a similar hotel brewpub at the Shangri La in Shanghai. While he oversees operations and maintains quality control, Cavalier is employing locals as assistant brewers, and will be making specialty beers "tailored towards the local palate, with local ingredients".
"It's an opportunity to have some fun with the new varieties of fruits and flavours we have over here," says Martin.
Moving forward, Cavalier has ambitions to expand to other cities, with Goa and Hyderabad the next targets, and Martin believes that this market is something other Australian breweries should explore.
"It's a big market, it's booming," he says. "India has that burgeoning middle class happening. It's gentrifying every day. They're going crazy for craft – they've just started to hit the sours. You'd be crazy not to get in on it. It's just difficult.
"The lesson is patience. The trick is to find the right partner. We got the right partners and it's worked out for us. We don't have that reach into the community or the right business language to speak. The way of business is entirely foreign to us as well. With us, you get to the topics of money and profits very early, but these cultures operate more by building relationships first."