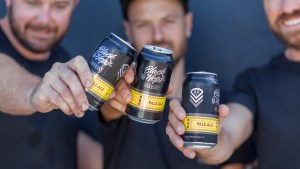 Gold Coast craft brewer Black Hops has opened up to investment through equity crowdfunding to fund its growth plans.
The brewery is scaling up its operations with a second production facility and taproom in Biggera Waters, which is due for completion in early 2019, with plans for interstate expansion.
The Black Hops offer will feature investment rewards from $50 and up to $10,000 for retail investors. Investors will receive ordinary shares in the company and also be offered priority access to limited release beers as a reward. Black Hops hopes to raise up to $400,000 from investors through an equity crowdfunding offer with Birchal.
"We've been following the process for legalising equity crowdfunding for a few years," says Dan Norris, co-founder of Black Hops, who has been a keen proponent of crowdfunding for several years. "Now that it's finally here, we are looking forward to being one of the first breweries to run a campaign, and the first to use equity crowdfunding to help fund the opening of a brewery.
"One of the best things about crowdfunding is how great it is at building up a group of advocates and followers. We've done this since day one with our Black Hops Ambassadors.
"Backers are likely to be fans and advocates of your business and thrilled to be part of the action. And what better advocates for your company than the people who are prepared to buy a stake in it. We believe that equity crowdfunding is a great way for everyday drinkers of our beer to become investors and share in our future growth."
Under the crowd-sourced funding (CSF) regime, eligible proprietary and unlisted public companies can raise up to $5 million every 12 months from retail investors on a licensed CSF platform.
The crowd sourced funding regime had previously required companies to convert to unlisted public companies before they could raise funds under the regime, but was expanded to include proprietary companies in October 2018.
Australian private companies are typically limited to a maximum of 50 non-employee shareholders. However, under these reforms, investors acquiring shares through a crowdfunding offer are excluded from this cap, allowing private companies to raise funds from potentially hundreds or thousands of investors.
"When you add brewery equipment costs, venue costs, and tax and excise to the usual costs that any other new or early stage business needs to meet, you'll soon find that craft beer businesses are possibly one of the most capital intensive small businesses around," adds Matt Vitale, co-founder of Birchal. 
"For many years now, Australia has been one of the most challenging places on earth to raise investment for small and medium businesses. In the context of the Royal Commission into the Banking and Financial Services Industry, we're already seeing the problem of access to funding for small businesses is getting worse.
"By blurring the lines between customers and investors, brands can more successfully incorporate a capital raise to their sales and marketing strategy."