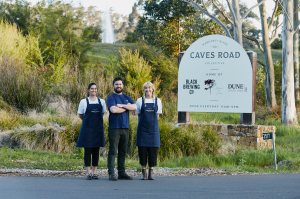 The home of Black Brewing Co. in Wilyabrup, Margaret River, WA, has a new name – Caves Road Collective.
The venue is home to Black Brewing Co., Dune Distilling and Ground to Cloud Wines, and now also features a restaurant with the capacity for events and weddings.
Owners Stewart Sampson, Kristin Kestell, Rob Johnston and James Paterson took over the business in late 2015 and have steadily grown the product offering to create the visitor experience, employing 35 local staff. The building was designed to extensively use national stone and timber.
"We're a passionate bunch of locals, driven to deliver uncompromising quality, and believe the new venue brand better reflects this," says Sampson. "Since taking over the amazing location on Caves Road, we've steadily improved the venue and product offering with the intention of creating incredible memories.
In less than a month, the company will celebrate its third birthday. When Sampson and his girlfriend maxed out their credit cards and got a lease on the property, it was already a functioning brewery, so they started there. However, Sampson has been in distilling and winemaking for some time as well, so wine and gin products were subsequently developed, with the Collective centred in the middle of a 17 hectare vineyard.
"We released our first beers at the start of 2016," recalls Sampson. "We started wine in 2016 and away we went. We've built it up to making half a million litres a year under Black Brewing Co, which is great. We've also made a collaboration beer with Taj Burrow, Dino Adrian and J Davies that's called Honest Ale. That took off it's now distributed in six states."
Black Brewing Co. is set to launch a new range of beers after playing with the core range for the last two years. A lager, a fresh ale, a pale ale, an IPA, a saison and a milk stout will form the core range, but then another range of beers will be launched with a focus on Belgian and farmhouse styles, as well as collaborations with the winery and distillery.
"We're trying to find ways to collaborate with craftsmen and brewers," says Sampson. "Our Albino Pinot IPA is an IPA fermented with Pinot Noir. We move the wort into a barrel and then we put fermenting wine into the barrel and that ferments the beer. It's that ability to collaborate in-house. We're bringing wine making and brewing together.
"Another one is a barrel-aged stout in a wine barrel that I've toasted myself. We age spirit in it and then we pour the stout in the barrel, so it has life as part of a wine, then a spirit and then a beer. It's a heap of fun. One of the best things about brewing and distilling recently is that there are no rules and you can make things that taste fantastic.
"Following on from that will be a raspberry farmhouse ale, and after that we have a range of saisons coming out that will be released over the next few months."
The core range will be available in cans and bottles, but the rest of the range will be sold in 750ml bottles to encourage sharing with friends.
"We've been distilling in a small way for a long time, but we've got a large still arriving in a month," adds Sampson. "At the moment, we only make gin and just serve it at the venue. We're about to bring out two new gins, which have been in development for months now."