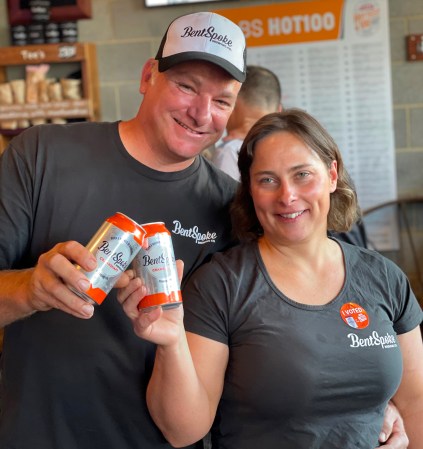 Canberra's BentSpoke Brewing have been inundated with new sales enquiries for Crankshaft, from both here and overseas, after the India Pale Ale took out the GABS Hottest 100 Aussie Craft Beers for 2020.
After claiming bronze the last three years running, Crankshaft ousted the reigning champ, Pacific Ale from Stone & Wood, into second and Balter Brewing's XPA, 2019's runner-up, into third. A record of almost 40,000 people placed nearly 200,000 votes in the poll.
As well as taking out top spot, BentSpoke also placed 10th with their Barley Griffin Pale Ale, 15th for their Sprocket IPA, 19th for the Cluster 8 Double IPA and 32nd for the Red Nut Red IPA.
Speaking to Beer & Brewer BentSpoke's co-founder Rich Watkins said despite having his first beer at 10.30am on the day of the awards, and not closing up the Braddon brewpub until the "wee hours", he was still "up early and feeling fine for golf" the next morning.
But now his focus is on ramping up production of Crankshaft and satisfying the long list of enquiries – from both existing customers and all new ones.
"We're going to be brewing (Crankshaft) pretty hard I think," Rich said.
"We've been inundated with enquiries since the win – from local people that have always stocked Crankshaft but now want to build a big display right through to all-new accounts in the likes of Sydney, Byron Bay and WA to even a few enquiries from places like Singapore as well.
"We did have a fair bit of Crankshaft ready to go leading up to the Hottest 100 but we'll no doubt have to increase production to satisfy demand and tick everyone off as we go."
Crankshaft does currently have nationwide distribution but Rich said there were gaps in the market he'd like his sales team to fill.
"The sales team are so excited by the result. They're energised and ready to take it to the next level.
"They've all individually had a lot of enquiries from their customers which has been great and they've now got something to build a good base from leading deeper into this year.
"I hope this year now pans out a bit more like 2019 than what 2020 was like."
A tick of validation
Back in 2014, when Rich and partner Tracy Margrain established their brewpub, Crankshaft was one of the first beers they brewed, as was Barley Griffin that rounded out the Hottest 100's top 10.
"It is very pleasing to see, that two of the beers we hung our hat on right back in June 2014, when we opened the brewpub, are still two beers today that both people who have been into craft beer for a while as well as those new to craft, want to try and that they enjoy doing so," Rich said.
"So you're right, it does give us a big tick of validation on our early decisions.
"You don't get to make those decisions twice and I think it goes to show you need to have a pretty tight plan of what you're all about when you start out."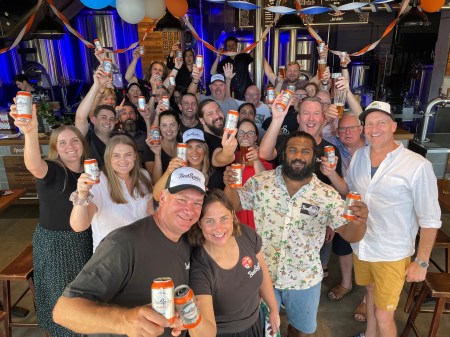 Parallel best beer memory
Rich now admits Crankshaft's Hottest 100 win is his "parallel best beer memory" alongside his Red Nut Red IPA winning a Bronze Medal at the 2018 World Beer Cup – the most contested event in the world of beer awards.
"We take competitions that are voted on by the people who buy beer really seriously, so winning a World Beer Cup Bronze Medal for our Red Nut was great.
"And now, and in the past, the success we have had in the GABS Hottest 100 has been a really satisfying and humbling experience. After all, we are this little brewery from Canberra.
"I never thought we'd actually get there (to first place) to be honest. When I look at those two big breweries that have been ahead of us in recent years, I wasn't really thinking we were quite in the same ballpark.
"I thought, for us to win, it would take the guys in front of us to not really do a lot or for people to swing away from them – which is unlikely to ever happen.
"I was really satisfied to have been coming third to be honest because if you look at the two big breweries in front of us, I mean, they're hugely inspiring breweries. For us to be third was amazing.
"But now to finish first and to get over the line this year, is really, really humbling.
"In the scheme of things, in the craft beer industry in Australia, we are probably at the medium size but we're still small in terms of brewery sizes. Stone & Wood and Balter are massive operations, they are incredibly big breweries and to think there is enough people out there to vote for Crankshaft is amazing to say the least really."
Everybody's talkin'
As is the case every year with the Hottest 100, the debate rolls on longer than the event itself as people question the results, argue why this brewery or that did or didn't make the list and dismissively write it off as a popularity contest and little else.
Good, bad or otherwise, Rich sees the talk, in all its forms, as a good thing for craft beer in general.
"The thing about this competition is that it really just gets everyone talking about beer. Whether you fully agree with it, or you don't like it, or whatever it is, it does get everyone talking about beer and we need more things like this to be able to keep the conversation happening."
Rich said Australian craft beer needed the likes of the Hottest 100 to snare a greater share of the overall beer market.
"We as a brewing community would like to see craft beer's percentage of sales get a little higher than it is currently.
"We are still trailing the US and the UK, and probably New Zealand too I imagine, in terms of market share. So it'd be really great to see a greater share of the overall beer market go towards craft and really put a bit more volume into a lot of breweries around Australia."