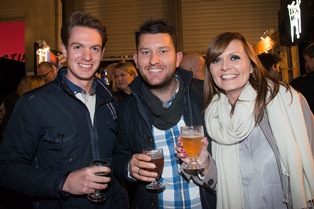 Happy revellers at Beervana 2014
The long awaitedBeervana festival was held last weekend (22-23 August) in Wellington, New Zealand, with around 9,000 beer lovers through the gates over the two days and more than 240 beers on offer.
Part of the festival included a Beervana Media Brew competition, which saw some impressive entries from both sides of the ditch. The winning collaboration went to Hallertau Brewery/Dish Magazine (Victoria Wells) for their NZ Wild Ale with Horopito.
Beervana Media Brew competition head judge Tracy Banner, who is also head brewer and owner at Sprig and Fern, said the quality of the beer entries this year was outstanding.
"It was a sensory explosion, with so many different sensations, whether aroma or flavour, and such a diverse range of styles," said Banner.
"The winning entry by Hallertau Brewery and Victoria Wells, which is described as having aromas of fresh silage, a little creamy, and a lot tart, was just absolutely sensational. When you know you've got good beer there's often silence amongst the judges as it's such a good beer. When everyone tasted this one, they just went 'wow'."
Three additional awards were also announced, with Runner Up going to Liberty Brewing Co./Metro Magazine (Simon Farrell- Green) for their J.A.F.A Beer. The Best Idea Award went to Fork Brewing/Lonely Planet (Brett Atkinson) for their brew Farmhouse du Fru Ju. ParrotDog/Fishhead Magazine (Hadyn Green) won the Most Innovative and Creative Award fortheir beer Dog Bone.
Beervana also played host to the 2014 Black Rock Home Brew Competition, which was won by Dallas Miller and Mark Morrison for their beer Death Valley Pilsner.
There were 95 entries in the Home Brew Competition this year and the standard was very high, according to head judge Kirsten Taylor.
"A lot of the beers were of commercial quality, some of them very complex and technically difficult to get right. The winning beer was a late hopped pilsner and was absolutely beautiful," said Taylor.
The second placing beer was Ulysses Flanders Red Ale, which was brewed by Brendan Bransgrove, who won the competition in 2013.
"This beer was also exceptional," said Taylor. "Technically it's a very complex beer to make and it was better than many of the commercially available beers of this style."
In third place, was a Saison (all grain recipe), by Wellington based trio: Alex McKenzie, Lindsay Welsh and Phillip Murphy.
For the full list of the 21 entries in this year's Beervana Media Brew, click here.