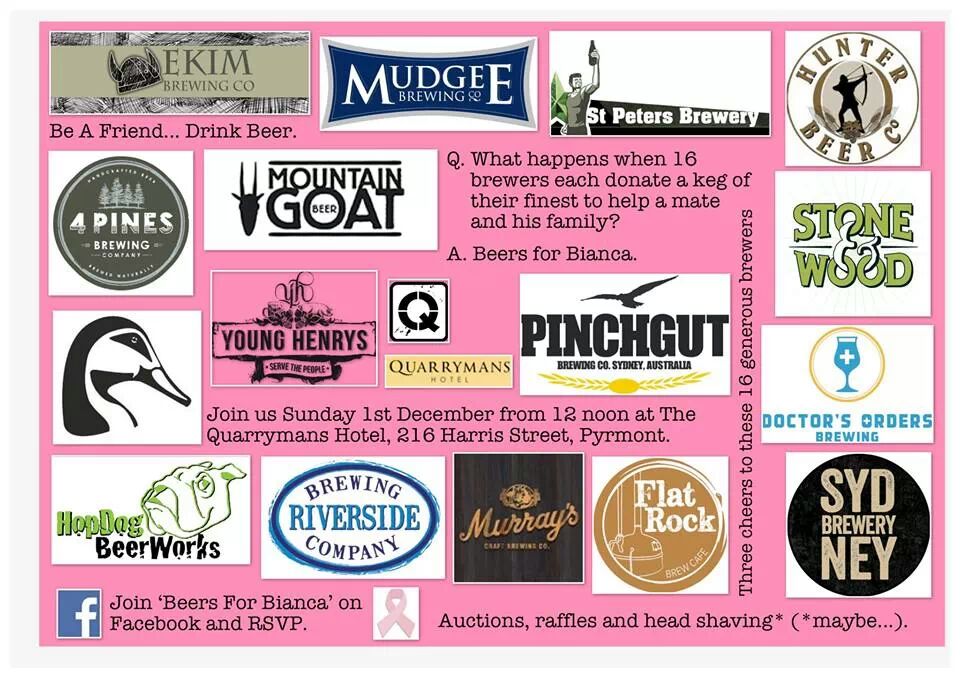 Gerard Meares from Pinchgut Brewing (NSW) has organised a fundraiser for a fellow brewer, Jon Shiner from Badlands Brewing (NSW). Jon's wife Bianca has been diagnosed with breast cancer. Gerard asked 15 brewers to donate one keg each.
Following some major surgery, held Tuesday 26th November, Bianca starts a 9 month course of chemotherapy.The money raised goes towards the costs of some of the drugs which are not covered by the PBS as well as helping with their three young children.
Sunday December 1stis confirmed as the date for theBeers for Biancafundraiser. 15 kegs from 15 different brewers have been donated to be served on the day.
TheQuarryman's Hotelat Pyrmont is on board as the venue who havebeen kind enough to offer up their taps for the day.Nick Tindall from Laundy Hotels will write a cheque for $4,000 for the beers, and they will be providing canapés & finger food throughout the day.
There will be some items up for auction, including a brewery t-shirt auction, raffles and there are a few people lined up to get their heads shaved, including Gerard's wife, Janelle, who has offers over $500 to shave her head so far.
Where:

Quarryman's Hotel

,216 Harris, Pyrmont, NSW 2009. Tel:

(02) 9660 0560.

When:

Sunday December 1st
Time:

From 12noon
Event organised by:Gerard Meares, Pinchgut Brewing, 0416 107 767.