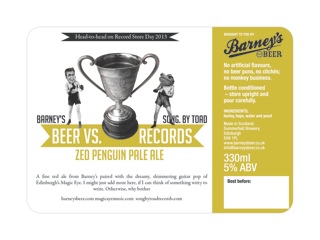 This April, sees the celebration of Record Store Day, and so, on April 20 one small Scottish brewery will be throwing down the gauntlet in an effort to answer the question: why is it that people will happily twelve quid on a single round of beer, but they're reluctant to spend twelve pounds on a record?
In the contest, two Edinburgh independents – Song. by Toad Records and Barney's Beer – will going head to head in an effort to see who can sell out of a limited run of 250 4-packs and 250 records first.
Song. by Toad Records will be releasing eight songs on a limited run of 250 clear red vinyl records, in a beautiful sleeve featuring photos of the recording session taken by talented local photographer Nic Rue.
Simultaneously, another eight songs will be released as download codes on bottles of Barney's Beer. With two songs per bottle, each one of a limited edition of 250 custom made 4-packs will represent the same amount of music as the record, only delivered on a selection beer.
So the questions will be answered: do music fans want lasting mementoes of their love for music, or are intangible mp3s and a good pint just as good? Do the kind of people whose enthusiasm has fuelled the renaissance of craft beer have the same interest in small enterprise craftsmanship and local community when it comes to music and art?