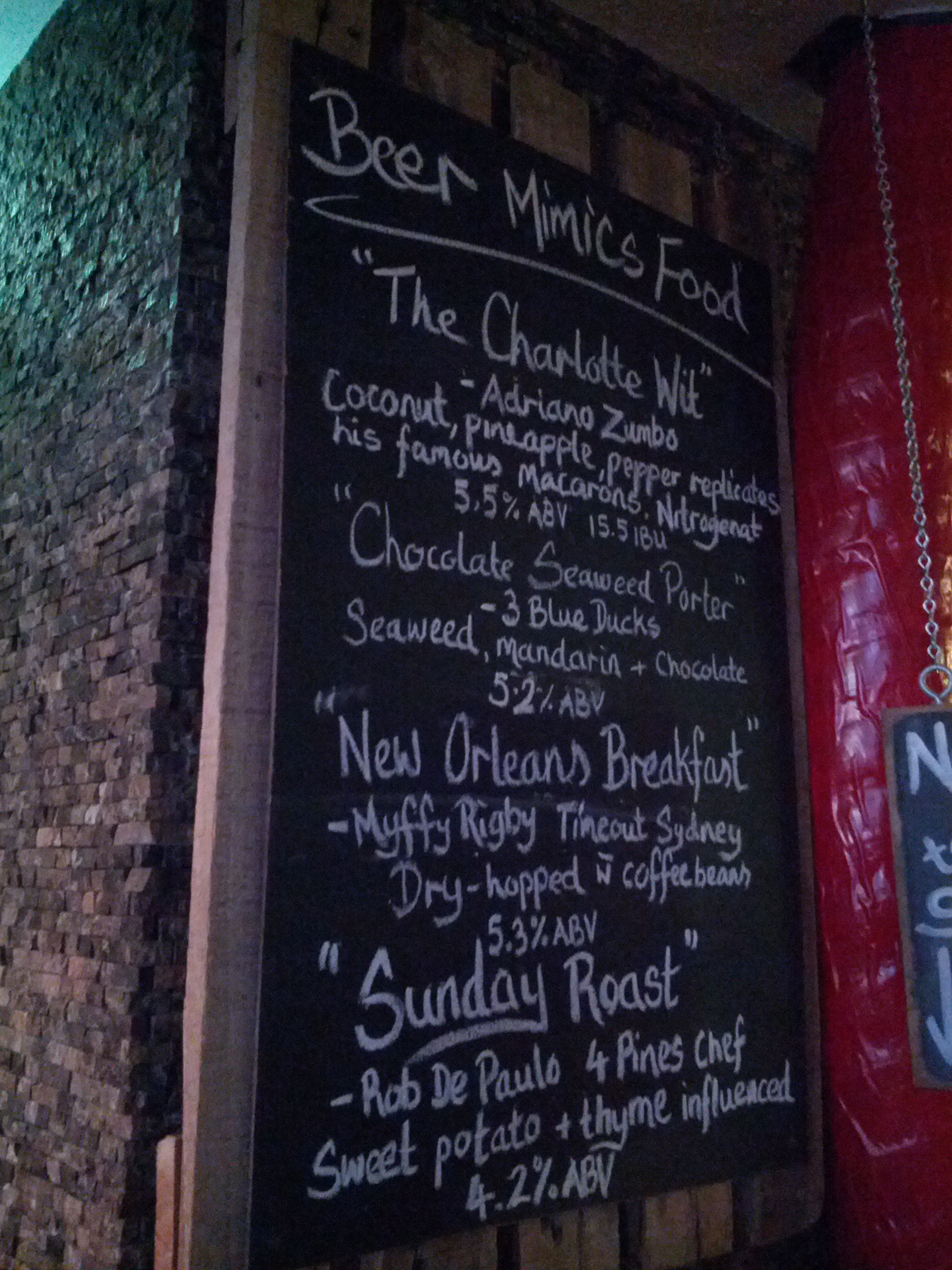 Beer that tastes as good as your mum's roast? Or how about a brew designed after an internationally acclaimed chef's famous dessert?
It's an interesting concept to be sure and one that was whole-heartedly embraced by the brewers and the chefs involved.
While Sydney Craft Beer week has seen some pretty cool events going on – meeting brewers, drinking amazing beer and eating great food – there was one quirky little gem that was put on by 4Pines in Manly.
Aimed at blurring the line between beer and food, as well as testing the boundaries of where beer can go, the event saw 4Pines brewer Andrew Tweddell team up with macaron king Adriano Zumbo, the lads from Three Blue Ducks, Time Out Sydney's Food and Drink Editor Myffy Rigby, and their own in-house chef Rob de Paulo.
Hanging out in the bar on Tuesday night for the great unveiling, Tweddell was rightly chuffed with his creations and how they turned out. Particularly the Sunday Roast Ale. Both he and de Paulo were a little unsure about the level of sweetness they had created in the brew. However, the addition of spices including fennel and cumin really brought out the flavour of the brew, creating a lovely finish.
"It's great," said Rob. "I know I'm biased but it is my favourite out of them all."
Myffy Rigby was equally chuffed with her creation, and gladly admitted to having a ball in the brewery. "It was so much fun," she said. "I want to do it again."
Her New Orleans Breakfast beer, somewhere between a Pale and an Amber Ale, was 'dry hopped' with coffee beans creating a lingering bitterness that went down rather well in pint form.
Adriano Zumbo's creation was based on one of his desserts – no surprise there – and was made with pineapple and coconut. With a base of fruity Wit Bier, the result was certainly more than drinkable. And the macaron master was also pretty happy with the result. "I really enjoyed it," he said. "I think beer and dessert has a lot of scope for the future."
The finale brew, made with Three Blue Ducks, was a Chocolate Seaweed Porter, an interesting combo to say the least.
"We had no idea how to go about brewing with seaweed," said Tweddell. "We ended up putting a call out online and finding these guys in Scotland."
Following their advice, the team put seaweed in the mash, but getting worried about the potential lack of flavour, they added more a further two times. And it shows. An odd mix of chocolatey Porter and briney seaweed, the Three Blue Ducks team were more than happy with how it turned out – it apparently mimics a chocolate and seaweed dessert from their venue – and while it took a bit of getting used to, the brew went down quite well as it began to warm up a little. Interestingly the process has also apparently got the boys thinking about the possibilities of brewing beer for their own venue, they revealed that the opportunity to create their own flavours to match with dishes is rather tempting.