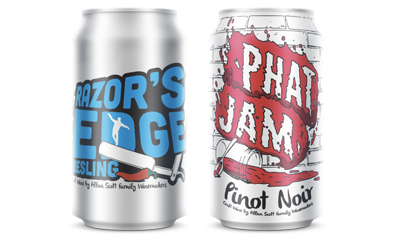 By James Wells
New Zealand winery, Allan Scott Family Winemakers, has developed the first ever Marlborough Sauvignon Blanc wine fermented with Sauvin hops and packaged in cans.
The hopped wine concept is the brainchild of Allan Scott's son, and founder of Moa Brewing, Josh Scott, and was developed from combining two of his passions.
"I am a winemaker by trade and my father founded Allan Scott Winemakers. I worked overseas as a winemaker in California and while I was there I was introduced to Sierra Nevada Pale Ale which quickly became my favourite beer. When I came back to New Zealand, there was no craft beer on the market, so I started Moa in 2003 and it became a listed company in 2012.
"With the Gooseberry Bomb, we take Marlborough Sauvignon Blanc and blend it with Nelson Sauvin hops – and we have done that by dry-hopping the wine at seven grams per litre – which is pretty much twice what you would normally do to a beer. We have canned it to give it that craft beer kind of feel."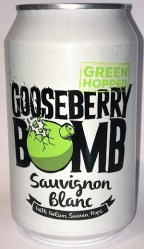 Scott says that while it is not a world first as another winery has blended hops with wine before, the definition of the product continues to be difficult to pigeonhole.
"Technically it is not a wine and technically not a beer – so it is classified as a wine with hops," he said.
There are two other products in the range which are currently only available in kegs – the Phat Jam Pinot Noir from the Marlborough blended with coffee and chocolate sourced from local roasters and artisanal producers, and Razor's Edge Riesling also from Marlborough blended with homegrown lemongrass and chilli.
"These cutting-edge wines are designed to build a point of difference for not only the wine industry, but also the on-premise market by providing the facilities to ensure the best quality will hit the customer's glass," Scott said.
"We have taken all of the traditional winemaking thinking and, by using some brewery techniques, really turned it on its head. If it's taking inspiration from modern cooking techniques like fusion, or even classic and natural flavours, like Manuka honey, or coffee and chocolate, we are trying to bridge the almost cavernous gap in perceptions of what a wine/beer/drink could be.
"At the root of it all we are trying to provide a unique and excitingly different drink, all the while looking to maintain a high level of drinkability and product quality a discerning educated drinker expects."
The Gooseberry Bomb cans and kegged Phat Jam Pinot Noir and Razor's Edge Riesling are currently available in New Zealand and are expected to be released in Australia in the near future.