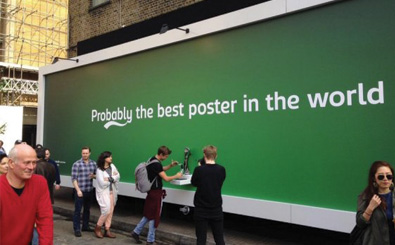 Carlsberg has created "Probably the best poster in the world" with the brewer launching the world's first beer serving billboard in east London.
The poster, embedded with a tap and a stack of glasses, is part of the 'If Carlsberg did…' campaign, which kicked off earlier this year.
For one day the public had the chance to pour themselves a half-pint of Carlsberg beer, which was located at the Truman Brewery. Visitors were limited to one free beer and Carlsberg UK staff monitored activity throughout the day to ensure people were drinking responsibly.
The billboard was created by advertising agency Fold7 as part of the brand's £12 TV campaign. Two more 'If Carlsberg did…' stunts are expected to take place later this year along with other advertising and sponsoring activities.
Carlsberg revived the 'Probably the best…' slogan after it was dropped in 2011. Check out a video of the Carlsberg billboard in action below.
Written by Daria Kurilo