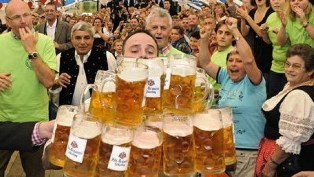 Victory as Struempfel crosses the line
German Oliver Struempfel has become the new world record holder for the largest number of German beer mugs ever carried.
The 27 mugs weighed in at about 62 kilograms and he manoeuvred them for a distance of 40 metres.
Struempfel achieved the feat during Volksfest, a celebration of brews, food and music in the Bavarian town of Abensberg. The newly-crowned champ has been carrying beers since he was a teenager, and topped his previous personal best by just one mug.
"I have worked here in the beer tent for the past 17 years, so I have had lots of training in carrying the beer mugs," Struempfel said.
It's not all tricks of the trade though, with Stuempful revealing "you have to support the training by going to the gym, especially in winter when you don't get much time carrying the beer mugs."
Struempfel's triumph came just weeks out from the annual Oktoberfest celebrations, which kick off in Munich on 20 September.
To view the beer carrying feat, click here.
Written by Laura Barry