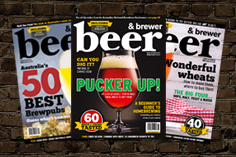 The latest issue of Beer & Brewer is now on sale with some exciting features to soak up while enjoying a beer…or two.
Our last edition of the year, the Summer Issue is packed full of beery goodness to enjoy over the holiday period.
Luke Robertson from Ale of a Time addresses the growth of canned beer and how people's perception of the humble tinnie is changing.
We also look at the rich history and complexity of sours, with Jeremy Sambrooks delving into the wild and wonderful world of these spectacular ales. We also chat to eight brewers about their sours and what foods to match with them.
As we head into the holiday season, you may be thinking about how you're going to spend your downtime, and if you're like me, the nagging thought of giving homebrew a try will be dancing around the back of your mind. Well our Homebrewer editor Chris Thomas has penned a Beginner's Guide to Homebrewing in this edition, looking at everything you need to know to get started homebrewing today. So stop putting it off and give it a go!
We also have a Christmas feature on what brewers will be doing, and drinking, on 25 December, which ciders to slurp this season, a huge edition of Homebrewer and so much more!
Beer & Brewer is available at Dan Murphy's nationwide, as well as independent bottle shops, home brew shops and newsagencies. To subscribe, click here.