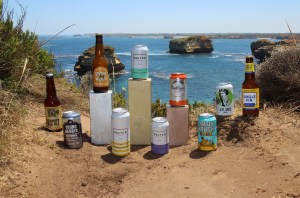 Balter's XPA has retained its title in the GABS Hottest 100 Aussie Craft Beers of 2018, which saw a record 31,000 beer lovers place more than 155,000 votes for their favourite craft beers of the year.
From a field comprising around 2,350 beers from more than 260 breweries, it was the Gold Coast brewery that claimed top spot for the second year running. Part-owned by champion surfers Mick Fanning, Joel Parkinson, Josh Kerr and Bede Durbridge, Balter had two other beers named in the top 10, with its IIPA and IPA placing sixth and seventh respectively.
Balter's IIPA was one of 21 beers released in the last 12 months to make the list, demonstrating the impact of a popular new release in the fast-paced craft beer scene. New England IPAs (NEIPAs) were also prevalent among the new entries, doubling their presence overall and claiming strong positions, such as Hop Nation's Jedi Juice (#9), Dainton's Blood Orange New England Rye IPA (#36) and CoConspirators' Matriarch (#63).
"With over 2,600 beers to vote for including a big offering from our own brewery the votes were going to be split up, so we knew it was going to be very hard to get the top spot again let alone three beers in the Top 10," says Stirling Howland, co-founder of Balter. "So when the results started dropping we were pretty blown away by the outcome and super thankful to our Balter community for getting behind us.
"The standard and choice of beers in Australia right now is exceptional. With 31,000 people voting for over 2,600 beers it demonstrates the good beer movement is alive and well in this country. I also think what GABS Festival and GABS Hottest 100 does for getting good beer to the people is really cool and we're stoked to be a small part of that."
Stone & Wood's Pacific Ale once again took second place, the beer's ninth consecutive podium finish over the years, making it the most loved beer in the poll's history. The Byron Bay brewery celebrated its tenth anniversary in 2018.
"We're so proud to share the podium alongside Balter and Bentspoke, as well as to all the other indie breweries whose beers have made the list this year," comments Ben Summons, managing director of Stone & Wood. "It's through continuing to support and buy independent that we all can continue to do what we love: brewing good beer! 
"The last 12 months have been incredible. We celebrated our 10-year anniversary; established our not-for-profit – the inGrained Foundation; opened our new brewery in Byron; introduced cans alongside a whole lot of other limited releases and saw 71% of team become shareholders in the business – coming second has topped it all off."
Third place went once again to Crankshaft from BentSpoke, topping a charge of five beers from the Canberra brewery, all placing within the top quarter of the list.
"The best thing about this competition is that it's voted on by the people that drink your beer," says Richard Watkins, head brewer and co-owner of BentSpoke. "It's awesome to see that Canberra brewers are nationally recognised. Our local community really knows what good beer means.
"If anything, it's inspired us to bend the rules of beer further than we ever have before. We've got some really exciting projects brewing for BentSpoke's fifth birthday year."
With Balter leading the way, Queensland showcased its huge strides in craft brewing, with 22 beers from nine breweries featured in the list, up from 15 beers from five breweries in 2017. While New South Wales maintained its overall presence in the list, with 26 beers from 13 breweries, Victoria, South Australia and Western Australia all dropped representation from 2017.
Localism has been touted as an increasingly influential factor and the results backed that up, with this year's list featuring the first brewery from Northern Territory – Darwin's One Mile Brewery – which had four beers make it into the Hottest 100. The Sunshine Coast also elevated its local brewing scene, getting Your Mates, 10 Toes and Brouhaha into the list. In addition, The Welder's Dog from Armidale in regional NSW saw four of its beers in the list, including the first ever ginger beer to make the Hottest 100.
Last May, the Independent Brewers Association launched the Independent Seal and the campaign's impact can be seen in this year's Hottest 100, with 88% of the beer listed made by independently owned breweries – up from 71% in 2017. Lion's Furphy Refreshing Ale was the highest placed non-independent beer at #25 and was the only non-independent beer to improve its position on the previous year.
In contrast, Coopers, South Australia's oldest family-owned brewery, saw its fortunes reversed, with its Sparkling Ale jumping from #97 in 2017 to #46 in 2018, the biggest jump of this year's list. In addition, two other Coopers beers made it onto the list – Original Pale Ale came in at #17 and Session Ale at #22.
"I think it's just become this wonderful tradition that's grown alongside the craft beer industry, allowing beer lovers to reflect on their favourite beers of the year and give a vote to the brewers who made them," comments GABS co-founder Steve Jeffares. "With breweries opening in all corners of the country, pushing the boundaries of style, technique and creativity, there's really never been a better time to be a craft beer drinker.
"And with such a huge number of votes behind it, this year's list is again very revealing about what people are drinking and enjoying, whether that's a more mainstream pale ale or a strawberry rhubarb sour from their favourite Sunshine Coast local."
The full list of winners is:
1 Balter XPA (Pale Ale) QLD * ↔
2 Stone & Wood PACIFIC ALE (Australian Pale Ale) NSW * ↔
3 BentSpoke CRANKSHAFT (American IPA) ACT * ↔
4 Young Henrys NEWTOWNER (Australian Pale Ale) NSW * ↔
5 Bridge Road BEECHWORTH PALE ALE (Australian Pale Ale) VIC * ↑4
6 Balter IIPA (Imperial IPA) QLD * NEW ☆
7 Balter IPA (American IPA) QLD * ↔
8 KAIJU! KRUSH! TROPICAL PALE ALE (Pale Ale) VIC * ↑2
9 Hop Nation JEDI JUICE (New England IPA) VIC * GABS ↓1
10 Gage Roads SINGLE FIN (Australian Pale Ale) WA * ↓5
11 BentSpoke BARLEY GRIFFIN (Australian Pale Ale) ACT * ↑16
12 BentSpoke CLUSTER 8 (Imperial IPA) ACT * NEW ☆
13 Your Mates LARRY (Australian Pale Ale) QLD * ☆
14 Black Hops PALE ALE (Australian Pale Ale) QLD * ↑6
15 Capital COAST ALE (California Common) ACT * ↑10
16 BentSpoke SPROCKET American IPA ACT * ↑8
17 Coopers ORIGINAL PALE ALE (Australian Pale Ale) SA *
18 Big Shed BOOZY FRUIT (New England IPA) SA * NEW GABS ☆
19 Balter CAPTAIN SENSIBLE (American Pale Ale) QLD * NEW ☆
20 Green Beacon WINDJAMMER (American IPA) QLD * ↑16
21 Capital ROCK HOPPER (American IPA) ACT * NEW ☆
22 Coopers SESSION ALE (Pale Ale) SA * ☆
23 BentSpoke RED NUT (Red IPA) ACT * NEW ☆
24 Balter STRONG PALE ALE (American Pale Ale) QLD * NEW ☆
25 Furphy FURPHY REFRESHING ALE (Kölsch) VIC ↑13
26 Philter XPA (Australian Pale Ale) NSW * ↑7
27 Capital TRAIL PALE ALE (American Pale Ale) ACT * ↑1
28 Stone & Wood CLOUD CATCHER (Australian Pale Ale) NSW * ↑18
29 Jetty Road PALE ALE (American Pale Ale) VIC * ☆
30 Pirate Life MOSAIC (American IPA) SA ↓24
31 Young Henrys NATURAL LAGER (Kellerbier) NSW * ↑30
32 Modus Operandi SONIC PRAYER (American IPA) NSW * ↓11
33 Modus Operandi FORMER TENANT (Red IPA) NSW * ↓21
34 Hemingway's PITCHFORK BETTY'S (American Pale Ale) QLD * ☆
35 The Welder's Dog FARMHOUSE GINGER BEER (Ginger/Spiced Beer) NSW * ☆
36 Dainton BLOOD ORANGE NERIPA (New England IPA) VIC * ↑49
37 10 Toes PIPELINE (Australian Pale Ale) QLD * ☆
38 Grifter PALE (Australian Pale Ale) NSW *
39 The Welder's Dog AUSTRALIAN WHEAT ALE (American Wheat) NSW * NEW ☆
40 4 Pines PALE ALE (American Pale Ale) NSW ↓24
41 One Mile 4:21 (Kölsch) NT * ☆
42 The Welder's Dog INDIA PALE ALE (Australian IPA) NSW * NEW ☆
43 Black Hops HORNET (American IPA) QLD * ↑12
44 James Squire ONE FIFTY LASHES (Australian Pale Ale) NSW ↓22
45 Thirsty Crow VANILLA MILK STOUT (Sweet Stout) NSW * ↓11
46 Coopers SPARKLING ALE (Australian Sparkling Ale) SA * ↑51
47 Bridge Road BEECHY SUMMER ALE (Australian Pale Ale) VIC * ☆
48 Burleigh TWISTED PALM (Australian Pale Ale) QLD * ↓1
49 Capital EVIL EYE (Red IPA) ACT * ↑19
50 Hop Nation THE DAWN (New England IPA) VIC * NEW ☆
51 One Mile RDO (Pale Ale) NT * ☆
52 Akasha HOPSMITH (American IPA) NSW * ↑2
53 Feral HOP HOG (American Pale Ale) WA ↓39
54 Fortitude PACER (American Pale Ale) QLD * ☆
55 Moon Dog OLD MATE (American Pale Ale) VIC * ↑16
56 Green Beacon WAYFARER (Pale Ale) QLD * ↓3
57 Gage Roads LITTLE DOVE (American Pale Ale) WA * ↓46
58 Pirate Life PALE ALE (American Pale Ale) SA ↓35
59 Akasha KORBEN D. (Imperial IPA) NSW * ↓15
60 Colonial PALE ALE (American Pale Ale) WA/VIC * ↓1
61 Capital SUMMIT SESSION XPA (Pale Ale) ACT * NEW ☆
62 Little Creatures PALE ALE (American Pale Ale) WA/VIC ↓36
63 CoConspirators THE MATRIARCH (New England IPA) VIC * ↓23
64 Wayward RASPBERRY BERLINER WEISSE (SOURPUSS) (Berliner Weisse) NSW *
65 Balter PILSNER (Classic Pilsner) QLD * ↓22
66 Gage Roads ATOMIC (American Pale Ale) WA * ↓31
67 10 Toes LONGBOARD (Australian Pilsner) QLD * ☆
68 Moon Dog BEER CAN (Hoppy Lager) VIC * ☆
69 Pirate Life IPA (American IPA) SA ↓54
70 10 Toes HAPPY DAYS (American IPA) QLD * NEW ☆
71 Burleigh BIGHEAD (Pale Lager) QLD * ↑18
72 Nail VPA (Pale Ale) WA * ↓41
73 One Mile NO LIMITS (American IPA) NT * ☆
74 Green Beacon 3 BOLT (American Pale Ale) QLD * ↓18
75 Yak Ales WILD YAK PACIFIC ALE (Pale Ale) VIC ↓46
76 Jetty Road INDIA PALE ALE (American IPA) VIC * NEW ☆
77 Brouhaha STRAWBERRY RHUBARB SOUR (Kettle Sour) QLD * ☆
78 Grifter SERPENTS KISS (Fruit Beer) NSW * ☆
79 Pirate Life IIPA (Imperial IPA) SA ↓66
80 Blackman's JUICY BANGER (Hoppy Lager) VIC * ↑2
81 4 Pines INDIAN SUMMER ALE (American Pale Ale) NSW ↓40
82 One Mile OTTO'S (Irish Amber/Red) NT * ☆
83 Mornington Peninsula SQUID RISING (New England IPA) VIC * NEW ☆
84 Modus Operandi DREAM WEAVER (New England IPA) NSW * NEW ☆
85 Mornington Peninsula SQUID SUPREMACY (New England IPA) VIC * NEW ☆
86 3 Ravens JUICY (New England IPA) VIC * ↓69
87 Bridge Road BLING (American IPA) VIC * ↓39
88 Black Hops SUPER HORNET (Imperial IPA) QLD * ☆
89 Young Henrys SUMMER HOP ALE (Australian IPA) NSW * ↓32
90 Big Shed GOLDEN STOUT TIME (Sweet Stout) SA* GABS ↓45
91 Fixation FIXATION IPA (American IPA) VIC * ↓61
92 Batch PASH THE MAGIC DRAGON (Kettle Sour) NSW * ☆
93 Your Mates DONNIE (Porter) QLD * ☆
94 Young Henrys MOTORCYCLE OIL (Porter) NSW * ☆
95 Young Henrys AFENDS HEMP IPA (Specialty Beer) NSW * NEW ☆
96 Colonial SOUTH WEST SOUR (Hoppy Sour) WA/VIC * NEW ☆
97 Capital HANG LOOSE JUICE BLOOD ORANGE NEIPA (New England IPA) ACT * NEW ☆
98 Sauce TRUBBLE & SQUEAK (New England IPA) NSW * NEW GABS ☆
99 Sauce BUBBLE & SQUEAK (New England IPA) NSW * NEW ☆
100 Feral BIGGIE JUICE (New England IPA) WA ↓17
KEY
↔ Maintained position from 2017
↑X Up X places from 2017
↓X Down X places from 2017
☆ First Hottest 100 appearance
* Brewed by an independent brewery (as defined by the Independent Brewers Association)
NEW Brewed for the first time in 2018
GABS A 'Festival Beer' brewed especially for GABS Beer, Cider & Food Fest