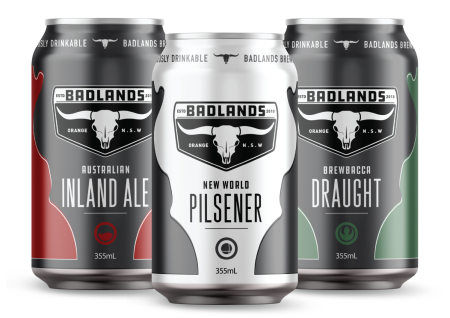 NSW brewery Badlands is set to launch its new look, with an updated logo and fresh can designs.
Based in Orange, and established in 2010, head brewer and director Jon Shiner said Badlands' constant growth and recent accolades had pressed the brewery to attract a much wider audience.
"Eleven years in, the brewery is going strong with distribution all along the east coast of Australia and last year our Pilsener was named 2020 beer of the year by Peter Lalor of The Weekend Australian," Jon said.
"After the great success of our New World Pilsener in 2020, we decided it was time to make our products more readily available, so we've put on our 'good clothes' in preparation for a stronger push".
As part of the rebrand, two of their existing core range beers have been given new names. The original Badlands IPA is now the Australian Inland Ale while local favourite Brewbacca Kölsch has been renamed as Brewbacca Draught.
"Our IPA has been one of our most popular beers since its introduction in 2012. For 2021, we've decided to speak directly to how the beer evokes some of the unique qualities of inland Australia, from the ranges along the east coast through to the vast interior. Inland Ale provides a deep counter-point to the coastal ales. Inland Ale is for us – complex, aromatic and full of deep earthy colour.
"(With Brewbacca) the name change reflects industry trends and overcomes the unfamiliarity of the 'Kolsch' style in some markets. Draught isn't actually a style of beer, more short hand for a refreshing and approachable beer. Our Kolsch has been a massive success, especially during events and festivals, with a wide range of customers. We think the new name will make the choice even easier."
Lucas Martin, Badlands' sales and marketing manager, said the new logo is designed to communicate the elements most important to the brewery and its customer.
"Badlands is Orange's longest-established and only city-based brewery, a fact we are extremely proud of. Badlands has always, and will always, be an active member of the community. The new logo presents our home town in a clear and concise way. Our customers won't have trouble finding us on the shelf as we've retained the strongest element of the original logo, the Badlands cow skull".
New cans will be rolling out to retailers over the coming weeks.