Parts of the American craft beer community have reacted angrily to the news that the world's largest brewerAnheuser-Busch InBev has bought fledgling Oregon-based brewery 10 Barrel Brewing Company.
Beer drinkers took to Facebook and Twitter to vent their frustration that another independent craft brewer had been snapped up by a multinational.
Craft beer fan Christopher Lawrence reflected the disappointment of many, posting on the 10 Barrel Facebook page, "I just can't stomach the thought of my money going to AB… I wish you guys the best, but I'm out." Derek Wilson added, "10 Barrel is dead to me now."
Steve Body, who publishes The Pour Fool blog in Seattle, wrote, "No matter how wonderful and popular 10 Barrel may become in the future, the whole enterprise is now tainted. I'm not planning to even taste their beers, ever again."
While much of the reaction to the deal has been vitriolic, the 10 Barrel Brewing management team has defended its decision to sell the business. Garrett Wales, who co-founded the brewery with brothers Jeremy and Chris Cox in 2006, said, "It's going to open some doors for us to grow things and put on some great new products; things that you're going to be really excited about. All we're asking is for the opportunity to prove it to you and let the beer do the talking."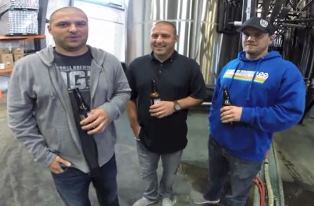 All three founders (pictured above) will stay on at the company
Andy Goeler, CEO of Craft at Anheuser-Busch, explained why the giant brewer had decided to buy 10 Barrel, describing the craft brewery as "a major contender" in the Northwest of the country. "10 Barrel, its brewers, and their high-quality beers are an exciting addition to our high-end portfolio," he said. "We see tremendous value in the brewery's unique offerings and differentiated style, which 10 Barrel fans know and love."
The purchase of 10 Barrels reflects Anheuser-Busch's continuing desire to capture a larger share of the fast-growing craft beer segment in the US. In February this year, Anheuser-Busch bought Blue Point in Patchogue, New York, while in 2011, it snapped up one of American's most famous craft brewers, Chicago-based Goose Island.
10 Barrel currently produces around 40,000 barrels a year.