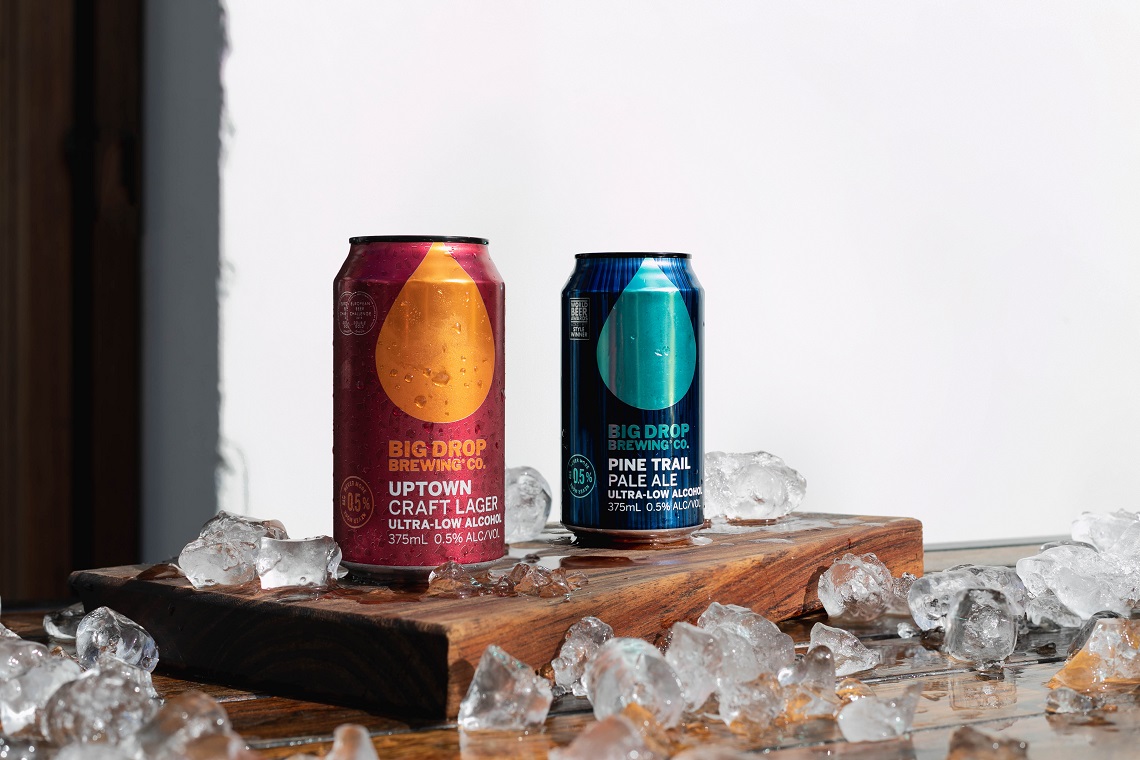 A new player has entered the booming Australian low alcohol beer market this week as the UK-based Big Drop Brewing Co release two of their award-winning 0.5% ABV beers here.
The emergence of Big Drop's Pine Trail Pale Ale and the Uptown Craft Lager, both contract brewed in Melbourne, follows reports last month that the Endeavour Group, through its Dan Murphy's and BWS stores, had seen sales of non-alcoholic drinks almost double in the last year and non-alcoholic beer become its fastest growing category.
Big Drop was launched in the UK in 2016 "as the world's first brewer dedicated to ultra-low alcohol beer" by founders Rob Fink and James Kindred.
The Pine Trail Pale, which uses Magnum, Mosaic and Amarillo hops, won the 2017 World's Best Low Strength Pale Beer at the 2017 World Beer Awards.
The Uptown Craft Lager, featuring Noble Hallertau Hersbrucker hops, won Double-Gold at the 2019 European Beer Challenge for the Alcohol Free Beer category.
Both feature gluten values of less than 10 parts per million and are low in calories and carbohydrates.
In the last 12 months, sales of non-alcoholic beer, wine, cider, RTD and spirits peaked during Christmas and July, and there was also an uplift in sales in March to coincide with customers preparing for the initial COVID-19 lockdown. The Endeavour Group said that non-alcoholic beer is its fastest growing category.
Adam Fry, General Manager of Buying & Merchandising of Endeavour Group, said: "This is a reflection of a broader trend where consumers are choosing to moderate, with particular interest from customers in metro areas. We expect this trend to continue.
"One of the reasons beer is so popular is that brewers have managed to create a product that replicates the flavour profile of the alcoholic version. Winemakers and distillers are following suit and many have managed to perfect the art of creating alcohol-free beverages that taste great," Fry said.
Big Drop's Pale and Lager are available now nationwide through Dan Murphy's and are "coming soon to BWS stores".
Contact Beer & Brewer by clicking here to share your news and views.