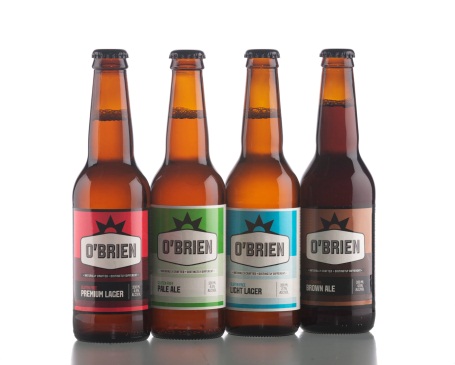 Gluten-free advocate, O'Brien Beer, has recently undergone a re-brand with new packaging, bottles and labels heading into stores nationwide. Naturally brewed and 100% gluten-free, O'Brien developed a method for brewing great beers that are true to flavour for sufferers of gluten related allergies.
Rebellion Brewing, makers of O'Brien Beer, use millet and sorghum grains to create a range of beers that include Brown Ale, Lager, Pale Ales and the world's first gluten-free low-alcohol beer.
Having been diagnosed with Coeliac Disease in 1998, owner John O'Brien found there was no Australian gluten-free beers on the market and no international beers that matched up to the taste of the craft beers he used to drink. "I was looking to make an all-natural gluten free beer, with no colourings or preservatives, that still tasted just as good as barley based beers, if not even better," he says. "Following some terrible initial attempts – and a fire in the back shed while I was trying to roast some grain – the trial beers became better and better, to the point where I thought there could be a commercial opportunity."
His dedication has meant that O'Brien Beer has won numerous awards since its formation in 2002 including; the inaugural gluten free beer awards in the UK, more than half a dozen Australian International Beer Awards and a silver medal at the World Beer Cup in the US in 2010 in Category 14: Experimental Beer.
Gluten intolerant beer fans will be able to trial the various O'Brien Beers at the upcoming Gluten-Free Expos in Sydney in August, Melbourne in September and Brisbane in May 2013.