Billson's Brewery in Beechworth has been granted council approval for expansion into beer, gin and whisky.
Nathan Cowan, who previously worked in marketing for a graphic design agency in Melbourne, wanted to escape to the country and to create his own brand. When he and his fiancée Felicity Cottrill saw that the previous owners were looking to sell, back in September 2017, Cowan and Cottrill sold their house in St Kilda, resigned from their jobs and purchased what was then a cordial factory.
"It was perfect timing for us and for them," says Cowan. "Since then, we've been trying to restore the property as best we can. We worked with a local historian and have discovered some of the brewery's history. It looks like it's Australia's first tower brewery. By all reports, they made fantastic beer, particularly stout. They chose the site because of a great underground spring. The dug a round well and found some beautiful spring water.
The brewery was built in 1872 by George Billson to make beers and cordials. It was sold in 1914 and became Murray's Brewing, but 80 years ago, the brewery ceased all alcohol production.
"They really embraced the short-lived temperance movement," says Cowan. "The most popular product that ever came out of here was a non alcoholic brewed herbal beer. They had a non alcoholic dandelion ale too."
"The Billson family sold the brewery in 1914 after one of the Billsons became mayor of St Kilda in 1908. The new owners called it Murray Brewers, so it's been known as that for 104 years. We've changed it back to Billson's because they're associated with most of the alcoholic drinks.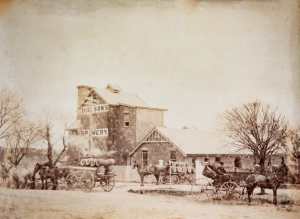 The pair officially took over on 9 September 2017 and, while they have continued to make the cordials, they have also been striving to get licences that would allow them to brew beer, distill gin and whisky, and sell alcohol on their premises.
"We've been lucky enough to see some beautiful old photos and old labels from the 1800s, when they had names like Mild Family Table Ale," says Cowan. "There are some beautiful illustrations. We found the brewer's diary and that has all the handwritten recipes. That's been a bit of a challenge, with all these measurements that we have no idea about, but we've been able to slowly decode them and start trials.
"The process has been lot of a fun and there have been lots of happy coincidences. George Billson's great great grandson is called Edward Billson and he is an architect based in Hong Kong. He specialises in designing wineries, breweries and distilleries. He's our lead architect on the project. He visited it seven weeks ago and has put all the plans together for a brewery and a distillery."
It will be another four weeks before the permit will be officially granted and Billson's will have permission to start making and selling beers. The plan is to be ready for the summer with beers and gins. A canning line is expected to be delivered by early November, with the recipes and packaging expected to be ready to go by December.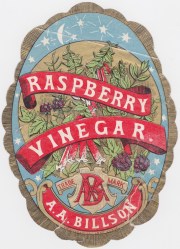 Cowan himself has no brewing experience and has enjoyed the steep learning curve of running a brewery.
"We're lucky enough to be surrounded by some talented people including our head brewer Tony Paull," he explains. "The plan at the moment is to launch four beers – a stout, a golden ale, a pale ale and a lager. That will be our core range.
"We want to do a heritage range where we stick as closely as possible to the original recipes, like the Mild Family Table Ale. There'll be a porter and an Australian ale. They were famous for that in the early 1900s. Because we'll have our own canning line and a system for small batch and flexibility, we'll be able to do limited releases and on-premise only beers. We're going to continue making the cordial. We recently stumbled across the original Raspberry Vinegar label (pictured) so we'll use that going forward."